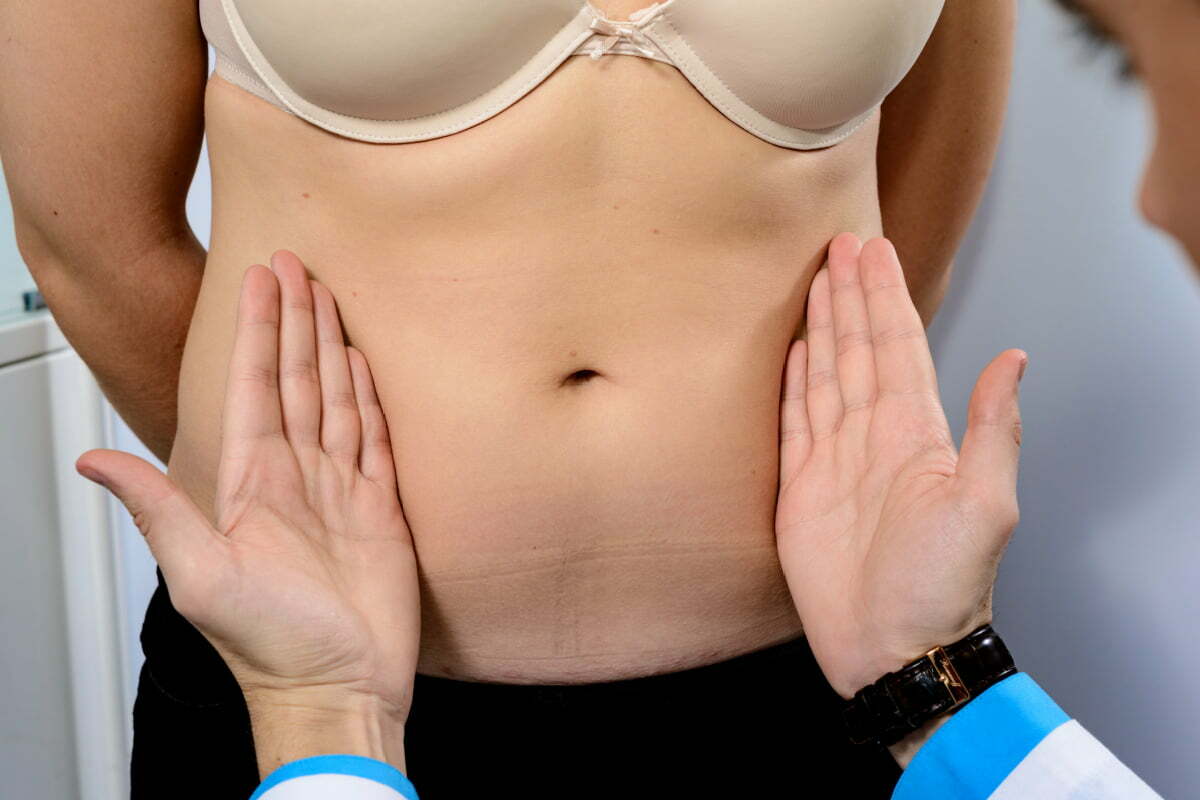 When your body has experienced a major change from weight loss or pregnancy, a tummy tuck (abdominoplasty) can have a major impact on your comfort, confidence, and happiness. The procedure involves creating a firm muscular foundation along the abdomen and removing excess skin to create an attractive, shapely waistline.
To have a smooth experience with this transformative procedure, it's important to have clear expectations for what's involved in both surgery and recovery. Here are 5 things that we make sure our metro Detroit tummy tuck patients know before scheduling their surgery.
1. You will have a scar.
A traditional tummy tuck technique, which is required to achieve the full effects you see in most before and after photos, requires a scar placed horizontally along the lower abdomen in a "smile" shape. An additional small scar around your navel is also often required. Scars will likely stand out at first, then fade and flatten after about a year. Even after the year mark, scars can continue to improve over time. Here at our Michigan cosmetic surgery center, Dr. Goffas uses advanced surgical techniques to minimize your scars, and we will counsel you on proper scar care to help them diminish in time.
2. Tummy tuck results require time and patience.
While you will be able to return to all normal activities after six weeks, and thoroughly enjoy how your transformed shape helps you better fit into clothes and feel more confident, it can take about six months to see truly "final" tummy tuck results. And even after the six month mark, your scars will continue fading.
Understanding this going into surgery can help you have realistic expectations for when you will be fully ready to show off your new shape—and help you to plan ahead. For instance, patients whose vacation plans revolve around the beach in summer may want to schedule their tummy tuck in fall or winter.
While you will be able to return to all normal activities after six weeks, it can take about six months to see truly "final" tummy tuck results.
3. You should be at a weight you are reasonably happy with, with no future pregnancies planned.
Tummy tuck results are very long-lasting, with one caveat: you need to keep a fairly consistent weight. It is key to undergo the procedure only when you've reached (or are very close to) a weight you are prepared to maintain with your diet and activity level. Luckily, research has shown that the procedure can be beneficial in helping patients keep weight off. You also shouldn't undergo a tummy tuck if you may become pregnant in the future, since pregnancy will reverse many of the benefits of a tummy tuck.
4. You will need to set aside some time—and ask for help—during recovery.
A tummy tuck achieves such a dramatic improvement by tightening the abdominal muscles. But these muscles require time and care to heal in their new position and regain strength, so we will provide you with detailed care instructions for the recovery period to ensure you don't do too much, too fast.
Immediately following surgery, you will need a helpful friend or family member by your side to assist with tasks that involve bending over or lifting things. It can take up to 2 weeks before you are able to stand fully upright, and you will need to rest and ask for help when it comes to some everyday tasks. And for the first 4-6 weeks, you will need to carefully avoid lifting anything heavy—like full bags of groceries or kids—in order to avoid straining your incisions.
Tummy tuck recovery considerations for parents of small children
After abdominoplasty, picking up and chasing small children simply won't be safe! While older children will be able to help you, i.e. by feeding the dog or carrying groceries, you will need to arrange for help with small children for a few weeks after surgery. Resist any urge to downplay how much time you will need to get better—invest this time in your recovery, and you will be rewarded with gorgeous results.
5. You will likely have a surgical drain in place.
Most of our tummy tuck patients have a surgical drain placed at their incision site. (If we use a non-traditional technique, like a mini tummy tuck, this may not be necessary.) While the drain can seem like an inconvenience, drains reduce swelling by allowing the body to drain fluids off the incision site, ultimately making a huge difference in speeding along your recovery.
Schedule your tummy tuck consultation with Dr. Goffas in St. Clair Shores
Board certified cosmetic surgeon Dr. George T. Goffas specializes in achieving beautiful cosmetic results from body contouring surgery. He is here to help you determine if you are a good candidate for a tummy tuck, and will offer personalized advice in your one-on-one consultation. Call our practice at 586-773-6900 or contact us online to begin the conversation today.