Nose Surgery (Rhinoplasty)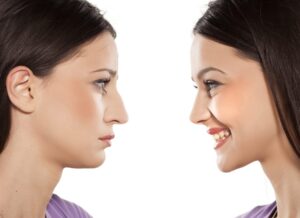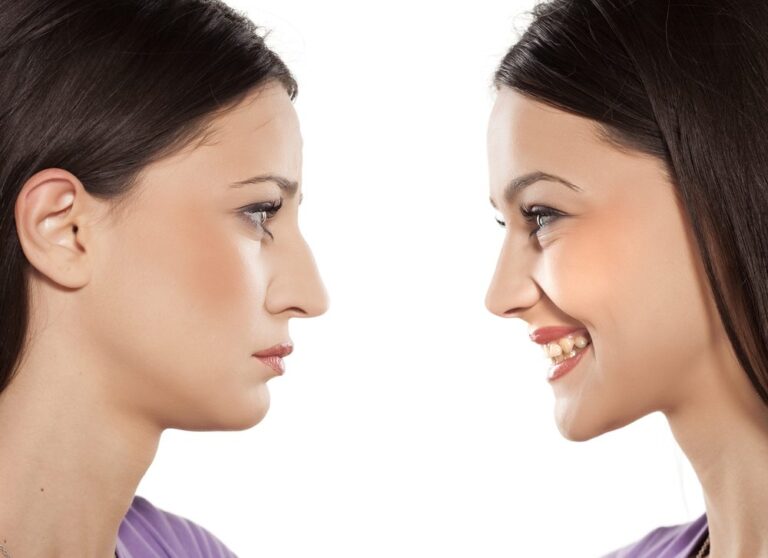 As one of the most prominent features on the face, your nose can significantly impact your appearance. If it's disproportionate, crooked or disfigured, your nose could be affecting your self-image as well as your health.
Many patients choose to undergo nose surgery at Cosmetic Surgeons of Michigan, PC as a way to permanently correct imperfections and improve their facial harmony. Our physicians can help you determine whether rhinoplasty is a beneficial procedure for you and enhance the structure of your nose so that you have confidence your appearance.
Would You Benefit from Rhinoplasty?
Changing the appearance of your facial contour is a very personal decision, and it's one that you should take time to think about. We always recommend that if your appearance is keeping you from enjoying a normal way of life, then surgical enhancement may be an ideal solution for you.
Rhinoplasty can improve your facial balance by reducing the width of your nose and nostrils or eliminating visible bumps or an abnormal nasal tip. Health concerns, such as a deviated septum, may also create a need for nose surgery to open up your airways and improve your breathing.
If overall you want to correct the proportions of your nose to your face, then you may be a good candidate for nose surgery.
Your Rhinoplasty Consultation
Our physicians can help you determine whether rhinoplasty is right for you. During an initial consultation, you can discuss the issues you have with your nose as well as your expectations for surgery.
Your physician will conduct an examination and review your medical history to make sure you are a viable candidate for surgery. Your consultation is a time for you to learn about the procedural details of rhinoplasty as the surgery can be performed in several ways, depending on the regions you are hoping to correct.
The goal is to help you understand rhinoplasty so that you are able to make an educated decision about whether it is right for you. Your physician can show you before & after images of previous procedures, discuss the costs, review your recovery instructions and answer any questions that you may have.
Video transcript

"I think the most enjoyable aspects of cosmetic surgery center around making the patients happy and getting the results that they want. Being honest about that is crucial. I believe those are very important goals. As long as you're honest with the patient and if you can help them, and you, you know, kind of basically underpromise and overperform, that seems to be a good combination for patients.

The other thing I've learned over the years is if patients come in with unrealistic expectations, you just kind of have to quash that right away. If they've lost, say, 100 pounds and they bring in a photo of Britney Spears' abdomen when she was in perfect shape, you know that's not achievable. So you just have to say, you know, this doesn't really apply to you because of all these other factors. But we're going to do our best, and we think this might be a better result, and maybe give them a, you know, post-op photo that logically could be achieved with your work."–Dr. George T. Goffas
What Happens During Surgery?
Your surgery will take place either in a private hospital setting or in our AAAHC-accredited surgical facility, both of which ensure your confidentiality and are held to the highest standards of safety. Your physician will determine the location of your surgery during your consultation.
Your physician will begin your procedure by placing you under general anesthesia and will make an incision suited for the structural issue being corrected. Incisions are made either within the nasal cavity or along the tissue separating the nostrils. The method used during your surgery will depend on the correction being made.
Your physician will raise the skin to receive access to the precise treatment area. Reducing the size of the nose or eliminating a bump or bulbous tip involves the removal of bone and cartilage. If, however, you are receiving rhinoplasty to correct a deviated septum, your physician will locate the septum and straighten it.
Once the tissues are reshaped, your physician will replace the skin and close incisions with stitches. Afterwards, you will be transferred to a private recovery room.
Your Recovery and Results
Your physician will place a splint on the inside and outside of the nose as well as apply packing inside of the nostrils to control the bleeding. Bandages are also used to support your nose's new structure.
You will experience some swelling and bruising after your surgery, and it may be hard to discern your new features for a few days. After a week, however, you should begin to notice the outcome of your rhinoplasty. Following your recovery instructions is key during the healing process so that you reduce your risk of infection. Your physician will also schedule a follow-up appointment in the days after your surgery to see how your nose is healing.
Within several weeks, the swelling will subside and you can begin to take pride in your new nose. Any breathing issues will be eliminated and your appearance will improve significantly, allowing you to feel confident in the way you look.
Areas served:
About Cosmetic Surgeons of Michigan, PC
Board certified cosmetic surgeon Dr. Goffas has served patients in the metro Detroit area for over 15 years. He would be happy to discuss questions you may have about nose surgery (rhinoplasty), and to help you decide if Cosmetic Surgeons of Michigan, PC is the right fit for you. To schedule a personal consultation with Dr. Goffas, contact us online or call (586) 773-6900.