Liposuction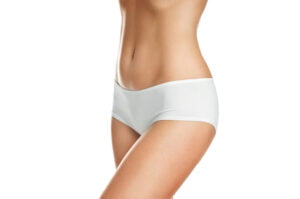 Diet and exercise alone are not always enough when trying to eliminate stubborn body fat. It can be frustrating for those who otherwise appreciate their bodies, but wish they could reduce fat in certain regions.
Liposuction is one of the most effective methods to treat unwanted fat and improve your body contour. Dr. George T. Goffas, our board certified cosmetic surgeon at Cosmetic Surgeons of Michigan, P.C. in St. Clair Shores, offers this treatment to create defined curves and a slimmer appearance. Dr. Goffas performs liposuction in our private AAAHC-accredited Surgical Center to ensure patients' safety, convenience, and confidentiality. With our affordable lipo body contouring procedure, you can get the work done that you want and soon enjoy the appearance you've dreamed about.
What is liposuction?
Surgeons have been performing liposuction for decades as it is a popular way to rid the body of stubborn fat. The procedure makes use of a surgical vacuum that suctions fat out from areas of the body, helping you improve your physique and feel confident about your appearance.
What are the benefits of liposuction?
Oftentimes, no matter how frequently you exercise or whether you stick to a strict diet, local fatty deposits can get in the way of all the positive work you have accomplished. If you find you have reached a stable weight, but are still having trouble getting rid of that last bit of body fat, lipo can be an effective treatment option. This procedure is commonly used to treat stubborn fat of these areas:
Abdomen or belly
Buttocks
Thighs
Arms
Muffin top
Neck
Is tumescent liposuction effective?
One of several liposuction options at our practice, tumescent liposuction is especially effective for treating smaller areas of stubborn fat with a quicker recovery period than conventional lipo. Tumescent liposuction is an advanced technique used by Dr. Goffas that involves using a saline solution infused with a local anesthetic to assist with fat removal and pain management. This solution is injected into the treated area prior to suctioning to help break up fat and make it easier to suction out. Because the procedure causes less trauma, it helps expedite the recovery process.
Are you a good candidate for liposuction?
To be considered a good candidate for liposuction, you should be at a stable weight and in good health overall. Patients who are still in the process of losing weight should wait until they have reached their goal weight before receiving liposuction, as lipo is most effective when eliminating localized regions of fat that will not disappear on their own.
If you smoke, it is also important that you refrain from all tobacco and nicotine products leading up to surgery and while you recover. These substances can impair your ability to heal. Please talk with Dr. Goffas for further details or if you need assistance quitting before your procedure.
Can liposuction improve my skin, cellulite, or wrinkles?
Liposuction will have no effect on cellulite and cannot be used as a skin-tightening mechanism. However, there are other procedures available that can improve areas of skin laxity. It is common to perform a combination of procedures to achieve your ideal results. After discussing your goals at a personal consultation, Dr. Goffas can recommend the best options for you and your body.
What can I expect during a liposuction consultation?
Before surgery in St. Clair Shores, you will sit down for a personal consultation with Dr. Goffas to discuss the issues you have with the fat on your body. We will perform a physical examination to make sure you are healthy enough for liposuction and view the areas that you wish to be treated. We will also assess your medical history and explain the procedural details of liposuction so that you have a full understanding of what will occur during your procedure.
Your consultation is the perfect time for you to ask any questions you may have about body contouring with lipo. Our goal is for you to feel absolutely comfortable with the procedure so that you're able to make an informed decision about whether liposuction is right for you. You can view before & after images of previous liposuction procedures, review post-operative care instructions and determine payment as well.
What happens during a liposuction procedure?
Your liposuction procedure will take place either in a private hospital setting or within our very own AAAHC-accredited surgical facility. Both locations ensure your peace of mind, safety and confidentiality during the surgery.
Before we begin, we will locate the areas of your body that liposuction will target. Then we will administer an anesthetic to ensure you feel no discomfort during the procedure. Because liposuction uses a narrow tube or cannula to remove fat from the body, the incisions made are rather small and unnoticeable to the eye.
To facilitate the fat removal, our physicians will inject a liquid solution into the fatty area, after which they will insert the tube and begin removing the fat. The tube acts as a vacuum, which makes it easier for the fat to leave the body. We will move the tube back and forth to break up the fatty deposit and eliminate it from your body.
Once our physicians remove the fat, they will carefully close your incisions and transfer you to a private recovery room.
What will recovery and results be like after body contouring surgery with liposuction?
Depending on the areas of your body where liposuction was performed, compression bandages may be wrapped around the treatment area to help blood circulation and reduce swelling. Drains may also be inserted to eliminate excess fluids.
Your post-operative instructions will detail how to care for your body after liposuction, and it's important that you follow each step in order to expedite the healing process and reduce any chances of infection. We also recommend that you refrain from any strenuous activity for the first few days after surgery to aid in your healing.
It will likely take several weeks for your new body contour to take shape, but once the swelling subsides, you should notice a significant improvement. As long as you maintain a stable weight and remain healthy, there's no reason why your results shouldn't last for years.
If you would like more information about body contouring liposuction, or to find out whether the procedure is right for you, contact Cosmetic Surgeons of Michigan, PC in St. Clair Shores at 586-773-6900 and schedule a consultation with our physicians.
Want to learn more about liposuction in St. Clair Shores?
Board certified cosmetic surgeon Dr. George T. Goffas, diplomate of the American Board of Cosmetic Surgery, has served patients in the St. Clair Shores and the surrounding metro Detroit area for over 15 years. He would be happy to discuss questions you have about liposuction and help you decide if Cosmetic Surgeons of Michigan, PC is the right fit for you. To schedule a personal consultation with Dr. Goffas, contact us online or call (586) 773-6900.
Areas served:
Read more about lipo and cosmetic surgery in our blog: