Breast Lift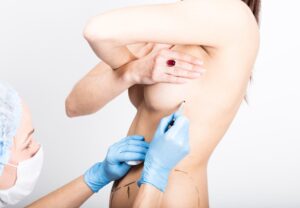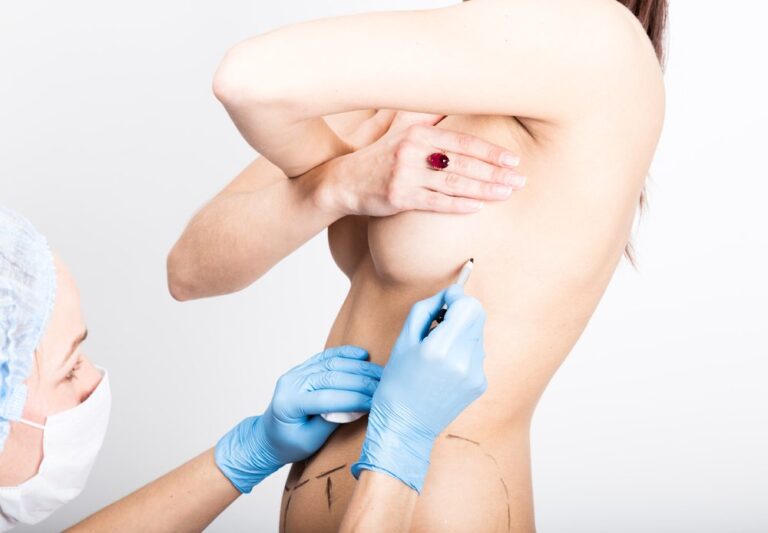 You may feel content about the size of your breasts, but notice that they are sagging more than usual. Size may not be the issue; rather, your breasts may need to be repositioned for them to look more appealing.
Instead of receiving a breast augmentation that enlarges the breasts, you may require a breast lift, which allows your breasts to simply sit higher upon your chest.
With age, the breasts tend to change. Their youthful shape and natural fullness begin to subside, particularly if you have lost weight, had children and breastfed, or have genes that make drooping breasts inevitable.
Our physicians perform breast lift surgery at Cosmetic Surgeons of Michigan, PC for patients who want to reduce skin laxity in their chest and receive breasts that are more uplifted. In a private AAAHC-accredited surgical facility or hospital setting, you can regain the breasts that you had in your youth and feel more confident because of it.
Do You Need a Breast Lift or Augmentation?
A breast lift is designed to rejuvenate the breasts by improving their placement on your chest wall. The procedure may also involve the removal of excess tissue and fat that are causing your breasts to sag.
A breast lift will not change the size or roundness of your breasts, however. So if your aesthetic goals require that your breasts look more shapely and increase in size, then our physicians may recommend that you undergo breast augmentation while receiving your breast lift.
Would You Benefit from a Breast Lift?
The natural aging process not only impacts your appearance, but also your self-esteem. It can be difficult to accept the fine lines that are gradually beginning to appear on your skin or the loss of volume in certain features on your body.
Your breasts experience many of these same changes and will age alongside the rest of your body. A loss of volume in the breasts generally leads to drooping skin that can make you appear older than you really are.
A breast lift is just one procedure that can rejuvenate the aging features in your breasts and improve your body contour so that you look and feel younger. If your aesthetic goals include enhancing your appearance while slowing down the signs of aging, then a breast lift may be the procedure you need.
The Start of Your Breast Lift Procedure
In order for you to get the most satisfaction out of your breast lift, our physicians need to get to know you and understand your cosmetic goals. By scheduling a consultation with one of our physicians, you can discuss the issues you have with your beasts and learn whether breast lift surgery is right for you.
During your consultation, your physician will review your medical history and determine whether you are a candidate for surgery. They will also perform a physical examination to ensure no underlying medical issues are present and to get a clear idea of how they will perform your unique procedure.
The goal of your personal consultation is to help you understand the procedural details of breast lift surgery. You can discuss the best incision for your body, post-operative instructions and ask any questions you have about your breast lift.
What Happens During Surgery?
Your physician will place you under general anesthesia and make an incision into your breast. The incision used during your breast lift will depend on the size and shape of your current breasts and areola, as well as the amount of sagging present due to skin laxity.
Once the incision is made, your physician will begin reshaping the breasts by lifting the underlying tissues, repositioning and reducing your areola and removing any excess skin. The remaining skin is tightened and your incisions are closed with sutures. Your physician may insert narrow tubes into the breasts to help drain any fluids, after which he will bandage your breasts and transfer you to a private recovery room.
Your Results and Recovery
You can return home within a few hours of your surgery and begin your aftercare process. You will have an understanding of your post-operative instructions from your initial consultation, and if you follow them as they were given, your breasts will heal without any complications.
Your physician may prescribe oral medications that help ease any discomfort while you recover, and we recommend that you refrain from any physical activity for the first few days after surgery. You will also schedule a follow-up appointment with your physician after you have spent some time recovering so that they can examine how your incisions are healing.
Areas served:
About Cosmetic Surgeons of Michigan, PC
Board certified cosmetic surgeon Dr. Goffas has served patients in the metro Detroit area for over 15 years. He would be happy to discuss questions you may have about the breast lift procedure and to help you decide if Cosmetic Surgeons of Michigan, PC is the right fit for you. To schedule a personal consultation with Dr. Goffas, contact us online or call (586) 773-6900.
Within weeks, any swelling will subside and your uplifted breasts will emerge, helping you feel youthful and confident about your body once again. For more information about how breast lift surgery can benefit you, contact Cosmetic Surgeons of Michigan, PC at 586-773-6900 and schedule a consultation with one of our physicians.