Facelift (Rhytidectomy)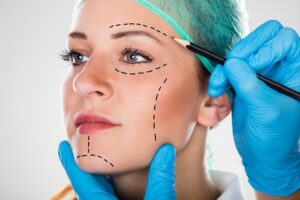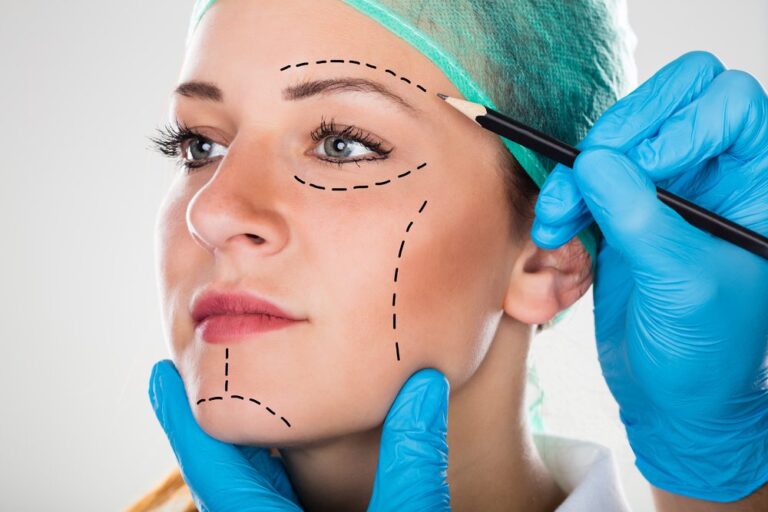 Most of the natural aging you experience takes place on your face, where wrinkles and volume loss can set in and make you appear older. Surgical and nonsurgical options are effective when treating aging skin, but the procedure you choose depends on the results you desire.
Our physicians perform both surgical and nonsurgical facial rejuvenation at Cosmetic Surgeons of Michigan, PC, but will suggest a facelift if you require a permanent and significant change to your facial contour. Opting for a surgical solution can take years off of your appearance and improve skin laxity that may be making you feel self-conscious.
Is a Facelift Right for You?
Many people wish to refresh their look as they continue to age, but not everyone desires invasive techniques that are typically associated with surgery. Deciding which facial rejuvenation method depends on the amount of enhancement you wish to receive.
If you are looking for a permanent way to achieve youthful skin, then a facelift will provide the results you're looking for; however, if you prefer subtle changes that you are able to adjust over time, then nonsurgical injectable treatment may be better-suited for you. You can discuss your options with one of our physicians who can help you decide which treatment to choose.
Why Receive a Facelift?
The natural aging process is inevitable and can be made more apparent from years of exposure to the sun and other environmental factors, the effects of gravity and genetics. Each of these conditions can lead to wrinkles forming and your skin losing the elasticity that helped it look plump and firm in the past.
When you begin to lose volume in your face, it can make features appear sunken and worn, and many of these conditions can impact your confidence, making you feel self-conscious about aging.
Although there is no cosmetic solution that will stop the aging process completely, there are ways to slow down its progression. If you are displeased with the way aging skin is making you look, then discussing a facelift with our physicians may be your next step.
Your Consultation
Our physicians perform facelift surgery in a way that aligns with your cosmetic goals and your facial construct so that your results look as natural as possible. Your treatment is customized completely so that you receive significant rejuvenation that still looks like you.
During a consultation with our physicians, your medical history will be reviewed to determine whether surgery is a viable option for you. We can also determine the areas of your face that should be targeted with surgery and design a treatment plant that specifically enhances the contours of your face. Your physician will assess the laxity of your skin as well as the amount of volume loss and choose the best incisional technique that will allow him to tighten the skin.
You can view before and after photos of previous facelift procedures, receive post-operative instructions, discuss the cost of your surgery, and learn more about the procedural details that will help you decide whether a facelift is right for you.
What Happens During Facelift Surgery?
All surgeries are performed either in a hospital setting or a private facility that is AAAHC-accredited. Either location is structured for your safety, confidentiality, and overall peace of mind. Your facelift will start once your physician places you under general anesthesia, at which point he will make the necessary incisions into the face.
Your physician can create incisions in several ways, depending on the amount of change you desire from your facelift. Traditionally, a facelift incision begins at the hairline near the temples and continues around the ears toward the back of the head; however, shorter incisions around the ears are also used for a softer lift.
Your facelift is also a perfect time to receive additional enhancement in specific locations. Many patients will receive an eyelid lift or brow lift for optimal improvement. The amount of excess skin to be removed is something you can discuss with your physician during your consultation; he can decide whether secondary surgeries are necessary.
Once your physician re positions the skin, he will close your incisions with sutures and transfer you to a private recovery room.
Your Recovery and Results
Your physician will provide you with recovery instructions before your surgery takes place, explaining the best ways to care for your incisions and limit any chances of infection. It may take several weeks for you to heal fully and see the results of your facelift, but following your post-operative instructions will ensure you see the effects of your facelift as quickly as possible.
It's best to take precautions during your recovery process and refrain from handling your bandages and sutures until your physician is ready to remove them. We also suggest using sun protection and avoiding putting on clothing over your head for the first few days after surgery.
You will experience some swelling and bruising immediately after surgery, which will subside as you continue to heal. Your physician may prescribe pain medication to soothe any discomfort you experience and schedule follow-up appointments that allow him to monitor how your incisions are healing.
After several weeks, your skin will feel smoother and look tighter. Overall you should appear more youthful after receiving a facelift from your physician, which should give you the confidence you need to age gracefully.
About Cosmetic Surgeons of Michigan, PC
Board certified cosmetic surgeon Dr. Goffas has served patients in the metro Detroit area for over 15 years. He would be happy to discuss questions you may have about facelifts (rhytidectomy), and to help you decide if Cosmetic Surgeons of Michigan, PC is the right fit for you. To schedule a personal consultation with Dr. Goffas, contact us online or call (586) 773-6900.