Hair Transplant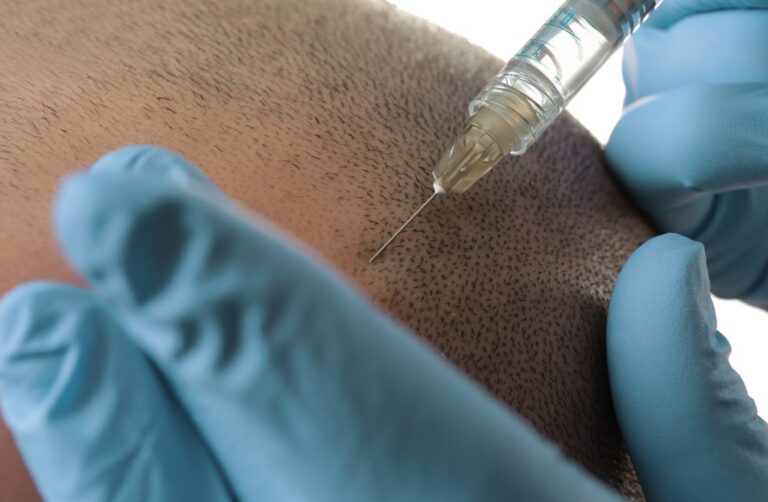 Many of us view hair loss as a way of life or a natural event that occurs as a result of getting older, but male and female-pattern baldness can be a difficult condition to accept. Losing your hair creates feelings of self-consciousness and can make you pessimistic about the aging process overall.
If your hair is thinning or turning into bald patches, you don't have to sit by and watch your hair disappear. Instead, you can receive hair transplant surgery at Cosmetic Surgeons of Michigan, PC that naturally restores missing hair without invasive techniques.
Our physicians use NeoGraft® to fight hair loss and help you regain confidence. With a full head of hair, you can maintain your appearance and love the way you look.
What Is NeoGraft® Technology?
NeoGraft® is the latest innovation in hair transplant surgery due to its minimally-invasive methods. Rather than remove donor hair in strips or create linear incisions on the scalp, NeoGraft® extracts hair from individual follicles and strategically places them in the balding area.
The procedure is made possible by a technique called Follicular Unit Extraction (or FUE), which has become popular among balding patients due to its ability to create natural-looking results in a tolerable manner.
Video transcript

"NeoGraft patients are generally pleased because it delivers what it promises. You get a very natural-looking hairline, and you really can't tell, even as a doctor, if someone's had the NeoGraft or not. I think it's probably the most stealthy way of getting a good head of hair with fairly good results and minimal risk for the most part. There's no scar, there's really little bleeding, and the only risk could be infection, but I haven't seen any of those. We put people on antibiotics, and the surgery can be done with just local anesthetic."–Dr. George T. Goffas
Is the NeoGraft® Procedure Right for You?
Millions of people suffer from baldness or thinning hair, but hair transplant surgery is proven to be the most effective way to restore fullness. If you have lost your hair due to male or female-pattern baldness, hair transplant techniques are an effective solution; however, patients with auto-immune disorders (such as alopecia) or other health issues that target the hair follicle will not receive their anticipated results through hair transplant surgery.
NeoGraft® works as a treatment option for those who are balding, but who have adequate hair in other areas on the head. Hair transplant surgery can also cover up a linear scar created from a previous procedure. Candidates should be in good general health and agree to wear their hair short for a few weeks before the procedure.
Your First Steps to Receiving Hair Transplant Surgery
Receiving accurate information about hair transplant surgery is key to understanding your options, and you can find out more about whether NeoGraft® is right for you during a consultation with our physicians. Together you can discuss your concerns about hair loss as well as your expectations for surgery.
Your physician will perform a physical examination that will help him rule out any underlying health concerns and determine your candidacy for hair transplant surgery. Afterwards, you can discuss procedural details, review pricing information and schedule your procedure.
How Does Hair Transplant Surgery Work with NeoGraft®?
Traditional hair restoration methods are notorious for the linear scar they leave behind on the scalp, but FUE has created a modern method for transplanting hair follicles. To begin your surgery, your physician will apply local anesthetic to your scalp to ensure your comfort. He will also recommend that you cut your hair short before coming in for your appointment. Doing so will make it easier to remove and plant the hair.
A surgical punch is used to remove hair follicles from fuller regions of hair and harvest them until they are ready to be transplanted. Your physician will examine each follicle and separate them based on their size, which will help him determine the most natural way to transplant the hair.
Once separated, your physician will place the follicles into the balding area at an angle that allows them to grow alongside your natural hair line and complement your facial contour. Afterwards, your hair is washed and you are free to return home.
Video transcript

"Hair restoration surgery is fairly diverse as far as there's non-surgical treatments like medications or injections. Then surgical treatments—the more old-school treatments were back in the day cutting out areas of the bald scalp and then sewing that together, hoping that you're bringing hair-bearing areas together, and that worked to some degree. That was kind of replaced by punch graphs, which is also a super old technique that I never learned. But you had like a doll's hair appearance which was very obvious. Then that got replaced with strip excisions where you cut out a strip of hair in the back of the scalp and then cut those into two three hair units, which was nice. Like that worked, and you could get a very natural hairline, all that was good.

However, you didn't really know how much hair a person would lose. So if you were to do those techniques on younger patients—which I saw some patients in different cities that I've traveled to where they have like a good growth of hair in their forehead that was transplanted, but all the hair around that now has fallen out, and it just looks like a mess. Or how could this happen? It's very unnatural.

So when the NeoGraft technique came out, this was a, I don't really want to say a non-surgical, but a minimally invasive way of removing single hair follicles from the back of the scalp and replacing those in the front of the scalp. So it mimics exactly how the hair grows. That technique I find is fairly powerful because it is essentially scarless where there's no linear scar.

In my practice, I can treat younger patients because, you know, my younger patients will come in at 25 or 30 years of age and say, you know, I want to get my hair done. You know, I tell them, well, you know, you're only 25 or 30. How much hair are you going to lose? We don't know what you're going to look like at 50. And they tell me, "I don't care what I look like at 50. I want to look good now." You know, "I want to get married, find someone, do all those things," and they really want you to do something with their hair surgically.

So this is where I find the NeoGraft has helped out because now I can tell them, you know, we don't know what your scalp's going to look like in, you know, 20, 30 years. But we can basically remove hair from the back of your scalp, replace it where you want it. And if you lose everything else around it and we don't have anything better that science can offer in 20 years, you would be willing to shave your head, and you're okay with that. Then I think they're a good candidate, even at 25, because, you know, they're getting the hair they want now, and there really isn't any downside to it. Even if nothing better comes along, and they shave their heads, there wouldn't be all these telltale, you know, scars in the back of their scalp, which I think is a little bit of a tragedy."–Dr. George T. Goffas
Your Recovery and Results
Your scalp will feel tender for the first few weeks after surgery, and you may notice that the grafting areas feel slightly raised. It's best to refrain from handling the donor hairs so that they heal properly.
Within a few days, the transplants will begin to scab over, which is completely normal and part of the healing process. The scabbing will subside within a couple of days, but we recommend that you limit your activity in order to minimize any swelling.
Because no incisions were made in the scalp, you won't have to return to your physician's office to have stitches removed, but he may schedule a follow-up appointment in the coming weeks to examine how your transplants are healing. After several weeks, swelling will go down and you can begin to wash, cut and style your hair normally.
Areas served:
About Cosmetic Surgeons of Michigan, PC
Board certified cosmetic surgeon Dr. Goffas has served patients in the metro Detroit area for over 15 years. He would be happy to discuss questions you may have about NeoGraft® hair transplants, and to help you decide if Cosmetic Surgeons of Michigan, PC is the right fit for you. To schedule a personal consultation with Dr. Goffas, contact us online or call (586) 773-6900.
Your hair transplants are permanent, and they will blend in completely with your natural hair. If you would like more information about hair transplant surgery with NeoGraft®, contact Cosmetic Surgeons of Michigan, PC at 586-773-6900 and schedule a consultation with our physicians.