Erbium Laser Skin Resurfacing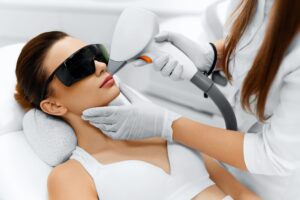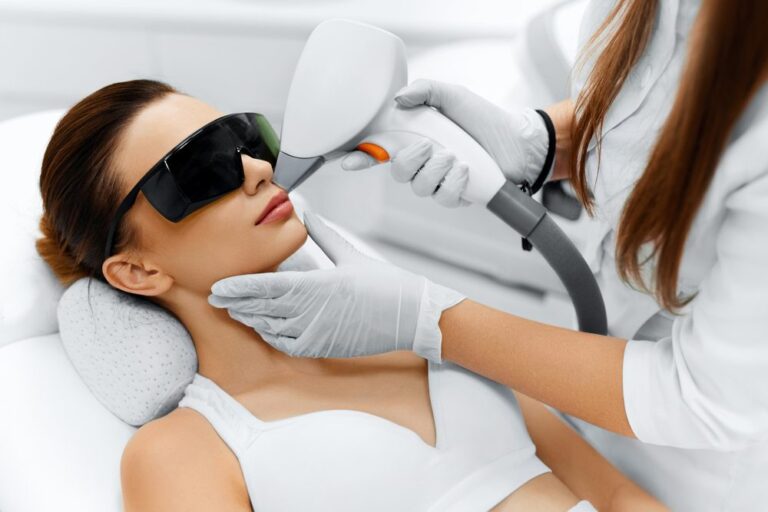 When the aging process begins to show itself, you are likely to notice it on your skin first. Fine lines and wrinkles begin to appear around the eyes and lips, and certain features on your face take on a sunken appearance.
You have several options when it comes to rejuvenating your skin at Cosmetic Surgeons of Michigan, PC, and the procedure you choose depends on the amount of cosmetic enhancement you desire. While some patients are interested in the dramatic effects of surgery, others prefer nonsurgical treatments that help the skin rebuild itself.
For those who have surface irregularities on their skin, such as pigmentation, wrinkles and slight scarring, our physicians offer erbium laser skin resurfacing to provide a wholly effective, long-lasting and nonsurgical treatment option.
Is Laser Resurfacing Right for You?
The erbium laser removes layers of skin in order to reduce the qualities making you appear older. Removal of each layer allows your skin to rejuvenate itself using its very own healing processes.
Whereas injectable treatment will mask the imperfections in your skin, laser skin resurfacing works to eliminate the imperfections and start fresh with a new layer. Likewise, erbium laser resurfacing provides noticeable rejuvenation, but without the downtime associated with surgery. Many patients choose laser skin resurfacing over surgery due to its less invasive nature and its ability to take years off of their appearance at the same time.
Our physicians use the erbium laser because of its limited side effects as well as its ability to produce little to no hypopigmentation (skin lightening) in patients. Therefore, patients with darker complexions may benefit from receiving laser resurfacing with the erbium laser.
Your Consultation Can Help You Learn More
Because there are so many facial rejuvenation techniques available, it's important to consult with your physician and determine which method is right for you. Your physician can review your medical history and conduct a physical examination to see whether you are healthy enough for laser treatment. Combined with your aesthetic goals, both you and your physician can reach a conclusion on what treatment to choose.
Your consultation is also a time for you to learn more about the procedural details of laser resurfacing. To help you confirm your decision, your physician will allow you to view a before & after gallery of previous procedures and answer any questions you may have.
What Happens During Laser Treatment?
Your physician can use the erbium laser to target either specified regions on the face or your face in its entirety. The areas being treated will depend on the amount of aging your skin presents. If you are receiving laser treatment in more sensitive areas, at topical anesthetic may be used to ease any discomfort.
If only localized regions are being treated, your laser treatment should take no longer than 30 to 45 minutes, but if you are treating the face as a whole, the procedure could take up to two hours. To begin, your physician will pass the erbium laser over your skin, which emits short pulses of light onto the irregular areas. The laser will begin to remove the surface layers of the skin, which will stimulate collagen production and other growth fibers that promote total rejuvenation.
Once your treatment is complete, your physician will bandage the skin and allow you to return home.
Your Recovery and Results
Your physician will provide you with recovery instructions that will help you care for your skin after laser resurfacing. It's important that you follow each step carefully so that you eliminate any chance of scabbing, which could result in scarring.
The following day, you should begin cleansing your skin four to five times per day. You may also use ointments to expedite the healing process and reduce scabbing. You may experience swelling, itching and stinging for a few days post treatment, but ice compresses will help alleviate any discomfort.
Within 10 to 21 days, your skin will return to its natural aesthetic, the only difference being tighter qualities that help you look years younger. If you have additional questions about erbium laser resurfacing treatment, or to find out whether the procedure is right for you, contact Cosmetic Surgeons of Michigan, PC at 586-773-6900 and schedule a consultation with our office.
About Cosmetic Surgeons of Michigan, PC
Board certified cosmetic surgeon Dr. Goffas has served patients in the metro Detroit area for over 15 years. He would be happy to discuss questions you may have about Erbium Laser Skin Resurfacing, and to help you decide if Cosmetic Surgeons of Michigan, PC is the right fit for you. To schedule a personal consultation with Dr. Goffas, contact us online or call (586) 773-6900.