Botox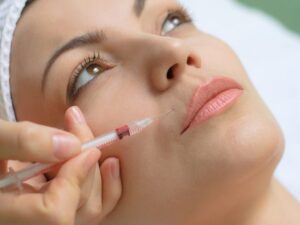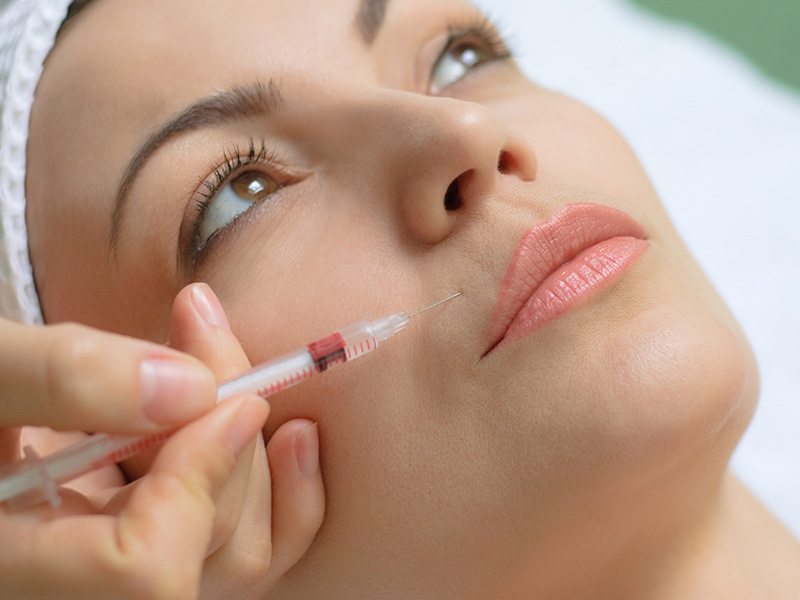 One of the first signs of aging is the appearance of fine lines and wrinkles on the face, and while these imperfections can form due to environmental factors, some wrinkles are the result of muscles that have spent years being overworked through facial expressions.
As a result, many patients who come into Cosmetic Surgeons of Michigan, PC and consult with our physicians to reduce these wrinkles, but may not require services as drastic as surgery. When surgery is not advisable, then BOTOX® injections can effectively combat the natural signs of aging in a minimally invasive manner.
What is BOTOX?
BOTOX is derived from the neurotoxin, botulinum toxin type A and purified to create a substance used to treat signs of aging, such as the appearance of wrinkles, on the face and neck areas. BOTOX works specifically on the imperfections that are caused by muscle exertion and limits the amount of movement these muscles can make. By injecting BOTOX directly into the muscle, the wrinkles that are making you look older will begin to subside.
Are BOTOX treatments right for you?
BOTOX is non-surgical treatment and an excellent option for patients who wish to diminish signs of facial aging or want to prevent them from forming in the first place. The most common wrinkle treatment areas include:
Forehead lines
Frown lines
Crow's feet
Smile lines
BOTOX is also used to achieve effective anti-aging results for different facial areas such as the cheeks, chin, and lips. This treatment can also improve the appearance of neck bands (platysmal bands) for a smoother, more youthful neck appearance.
Additionally, this treatment works well for those who don't present severe cases of aging and who only expect a subtle enhancement to their appearance. Downtime is also a significant factor for those looking for facial rejuvenation, since BOTOX doesn't require any of the recovery time that surgery often does. It's important to think about your cosmetic goals when deciding whether BOTOX treatment is right for you.
Your treatment consultation in St. Clair Shores
Meeting with our physicians will help you decide whether BOTOX can provide the results you are looking for. They will review your medical history and examine your skin to see whether your wrinkles are a result of muscle exertion and also discuss the necessary unit amount that will effectively reduce your wrinkles.
Your treatment consultation is a time for you to ask any questions about BOTOX so that you are better able to understand the procedure in its entirety. You can also view before & after images of previous BOTOX treatments and decide whether you desire similar results.
Your BOTOX treatment
Receiving BOTOX injections is minimally invasive and not at all time consuming, which is appealing to many patients; however, BOTOX is not a treatment made up of simple injections. Rather, each injection is strategically placed to provide you with the best aesthetic result. Our physicians will base your treatment off of the specific muscles that are creating wrinkles, which they can determine during your consultation.
Small amounts of BOTOX are injected into the face, which thereby begin to block the neurotransmitters from reaching the muscles and keep them from contracting. Preventing the neurotransmitters from communicating temporarily weakens the muscles and makes them incapable of moving to a point where wrinkles are formed.
The amount of injections you receive depends on the severity and location of the wrinkles present in the skin. And since not all wrinkles come as a result of muscle contraction, Dr. Goffas may recommend that you combine your BOTOX treatment with dermal fillers. Dermal filler treatments can address sunken features by adding lift and volume to the facial area to fully rejuvenate your appearance.
Your treatment appointment will take no longer than 30 minutes to complete, and afterward, you can return immediately to your daily routine. Because BOTOX injections are minimally invasive, your treatment can be performed right within our office.
Your recovery and results
Within a few days of receiving BOTOX treatments, you should begin to notice a reduction in your facial wrinkles with full results appearing in two to three weeks. Side effects are minimal and only include bleeding at the injection site and slight swelling, all of which subside within a number of hours.
Because BOTOX injections are temporary, you will need to come in for follow-up appointments in order to maintain your results. BOTOX typically lasts for three to four months, at which point your muscles will resume their natural functioning and your wrinkles will return. Many patients, however, appreciate the temporary nature of BOTOX because it gives them more control over their facial aesthetic. As you continue to receive BOTOX injections, your muscles will become used to the treatment and naturally reduce their overexertion on their own.
If you are interested in BOTOX and would like to find out more about whether treatment is right for you, contact Cosmetic Surgeons of Michigan, PC at 586-773-6900 and schedule a consultation with our physicians.
About Cosmetic Surgeons of Michigan, PC
Board certified cosmetic surgeon Dr. Goffas has served patients in the metro Detroit area for over 15 years. He would be happy to discuss questions you may have about BOTOX treatments, and to help you decide if Cosmetic Surgeons of Michigan, PC is the right fit for you. To schedule a personal consultation with Dr. Goffas or to learn more about the services we offer, contact us online or call (586) 773-6900.
Areas served: