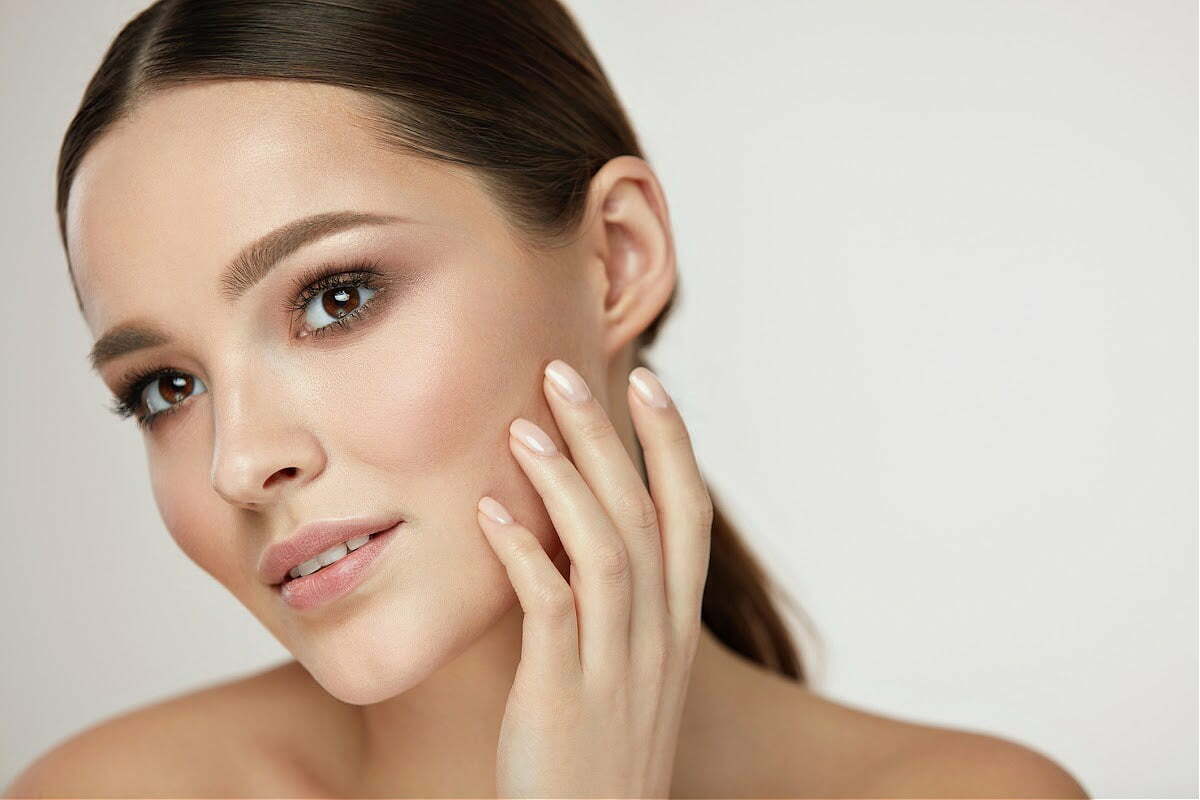 Are deep facial folds and sunken cheeks making you look older than you feel? Dermal fillers are an ideal way to rejuvenate your face without surgery; not only can they improve your skin's quality, but they are also capable of restoring volume and enhancing your most prominent features (think: high cheekbones, full lips, and a smooth jawline). Today we're exploring the various ways fillers can be used to shape the face.
What fillers can be used to enhance the face?
Here at our metro Detroit cosmetic surgery center, we offer two types of facial fillers: autologous fat injections and hyaluronic acid injections. While each type has its own benefits, they are used in different parts of the face to address different concerns.
Shaping the face with autologous fat injections: Autologous fat injection is a technique that uses your body's own fat as a facial filler to provide a near-permanent volume boost. Fat is harvested from a "thicker" area of the body (usually the stomach or hips), purified using a centrifuge, then re-injected into the face. Fat is a great facial filler because it is highly sculptable, giving your surgeon the ability to hyper-contour certain features.
Autologous fat injections are also non-immunogenic, meaning they have a very low potential for stimulating an allergic reaction since they don't introduce any foreign materials to your skin. Additionally, fat's stem cells are thought to improve skin quality over time by increasing collagen and elastin production. Fat injections can last indefinitely, assuming you maintain a stable weight and adhere to a healthy diet and lifestyle.
Shaping the face with hyaluronic acid fillers: Hyaluronic acid (HA) is a substance found naturally in our tissues responsible for keeping cells hydrated. When injected into the skin, it not only replaces age-induced volume loss but also stimulates collagen production, resulting in thicker, younger-looking skin over the weeks and months following treatments. Next to fat, hyaluronic acid injections provide the most natural-feeling and -looking results of any filler.
Hyaluronic acid fillers are biodegradable, meaning they naturally break down within the body after 6-12 months, so expect to return for appointments at regular intervals. One advantage of HA's temporary nature is that, if you aren't completely satisfied with your results, hyaluronic acid injections can be easily reversed using an enzyme called hyaluronidase.
Hyaluronic acid or fat: which filler is right for my face?
An experienced cosmetic surgeon will use specific fillers to treat different concerns throughout your face. At Cosmetic Surgeons of Michigan, we prefer to use a patient's own fat to shape their face whenever possible, as it allows for more permanent enhancement and can be a more cost-effective solution over time. We generally use a thicker filler like fat or Juvéderm Voluma to volumize the temples, cheeks, brow, jawline, and chin, and a thinner, more delicate filler like Juvéderm Volbella to correct wrinkles and marionette lines around the nose and mouth. Our cosmetic surgeon, Dr. Goffas, often recommends patients try a dermal filler before undergoing fat injection to make sure they like the look of added facial volume.
We prefer to use fat injections to shape the face whenever possible, as they provide more permanent enhancement.
Modern filler techniques for shaping the face
Using indirect injections to improve proportions: Although you may think of fillers as simply adding volume to the skin, they can also be used to enhance facial features by altering your proportions. For this reason, a qualified injector will often place filler near an area of the face they want to enhance rather than in the area itself. For instance, filler injections in the upper edges of the mandible and around the chin can make the jawline appear slimmer, longer, and more contoured, and carefully-placed fillers in the bridge of the nose can make it look flatter and straighter. Another prime example is administering fillers to the upper cheeks to help lift sagging skin below.
Injecting in a controlled and gradual manner: Fillers should always be injected in a gradual and controlled manner to help ensure a smooth and even result is achieved. If an injector is heavy-handed when performing filler injections, he or she risks inadvertently delivering a bolus injection (when a large amount of filler is deposited at once), which can cause lumps to form beneath the skin. It is especially important for a surgeon or aesthetician to inject fat in small, layered amounts, as this will improve fat's chances of survival.
Injecting in the direction of a line or wrinkle: Our aestheticians will often use a technique called "tunneling," or "threading," when correcting signs of facial aging with fillers. Tunneling is when an injector inserts a needle or cannula following the direction of a line or wrinkle and slowly releases the filler as he or she withdraws it, providing even support along the base of the entire wrinkle.
Ensuring results are subtle: We advise taking a "less is more" approach when injecting fillers to avoid creating an "overdone" look. Ideally, patients should look refreshed but not appear as though they've had a cosmetic treatment. Our aestheticians have a thorough understanding of facial anatomy and are very skilled at knowing how much filler to place for each patient.
Choose a board certified cosmetic surgeon for your fillers
Board certified cosmetic surgeons are more than just highly-skilled physicians: they are masterful artists capable of visualizing beautiful filler results from the first moment they meet a patient. While there are many non-accredited "medspas" offering facial fillers, they often take a formulaic, "one-size-fits-all" approach and lack the skill and anatomical expertise needed to provide results that best enhance a patient's unique facial features. For this reason, be sure to always choose a board certified cosmetic surgeon or a trained medical aesthetician working under their supervision to perform your fillers.
Looking for fillers in metro Detroit? Trust the experts at Cosmetic Surgeons of Michigan
Under the direction of board certified cosmetic surgeon Dr. George T. Goffas, our expert aesthetics team can help you rejuvenate your appearance and enhance your facial features with non-invasive facial fillers. Find out how you can benefit from filler treatment—schedule your St. Clair Shores cosmetic consultation today!