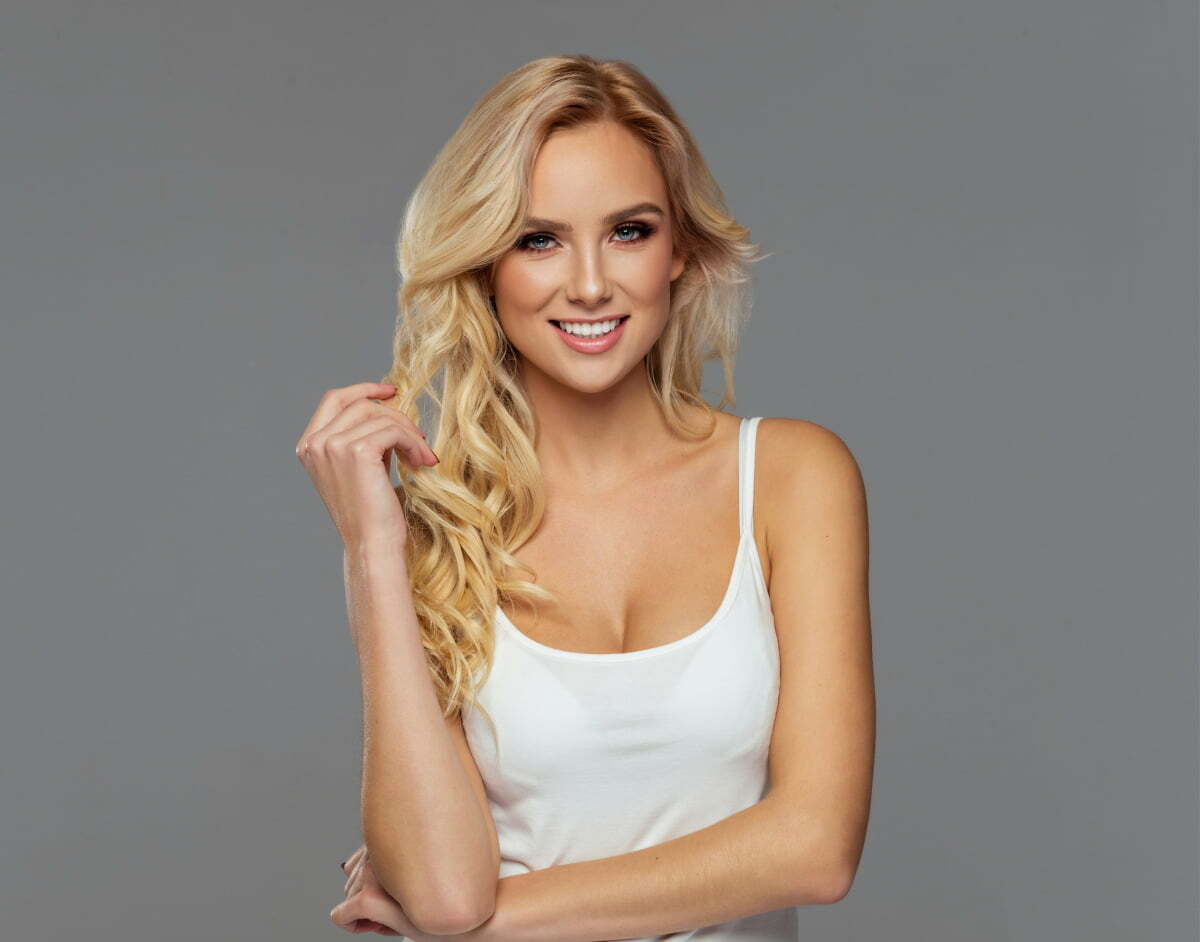 Everyone knows you can make your breasts bigger with breast augmentation, but what if implants aren't for you? Many patients who want improved breast shape and position opt for a breast lift, or mastopexy, instead. Below, St. Clair Shores cosmetic surgeon Dr. George Goffas answers your questions about how this procedure can create an attractive breast shape, with or without breast implants.
Can a breast lift be done without an implant?
Yes, a breast lift is often performed alone, without breast implants. The goal of breast lift surgery is not to add extra volume to the breasts, but rather to improve the shape and position of breasts that have lost volume or are sagging. A breast lift may:
Restore a perky, smooth shape to the breasts
Position the breasts higher on the chest
Reposition the nipples at the center of the breasts
Give you a breast shape that fits comfortably in bras and swimwear
Additionally, your surgeon may change the shape or size of your nipples and areolas (or improve their symmetry) during this procedure, if this is something you desire.
What is an internal bra breast lift?
An internal bra breast lift is a specialized breast lift technique that uses an internal mesh to create a strong internal scaffolding of support for your breast tissue along the base, much like a bra. It can also add helpful support for breast implants, if you have them. The "internal bra" integrates with your natural tissues over time.
We offer the internal bra breast lift technique at Cosmetic Surgeons of Michigan, and find that this procedure can be especially helpful for those who have experienced recurrent breast sagging due to thinner skin or lack of natural support.
How long does breast lift without implants last?
A breast lift is a long-lasting procedure, barring pregnancy or significant weight gain. Your skin will continue to lose elasticity as you age, so some further stretching is likely over time. Still, your breasts will continue to appear much perkier and better positioned than they would if you did not have a breast lift.
How much is breast lift without breast implants?
A breast lift at our St. Clair Shores cosmetic surgery center costs about $10,000-$12,000; this includes all surgeon's fees, anesthesia charges, and facility costs, but varies slightly depending on the details of your procedure. You will work with your board certified cosmetic surgeon to determine the best breast lift technique for your anatomy and goals; this will allow them to give you a detailed fee quote.
Remember not to choose your procedure or your surgeon based on cost alone; your safety and surgical results are at stake! Choose a cosmetic surgeon who can prove they have given many patients with similar concerns the kind of results you wish to see.
Luckily, the cost of cosmetic surgery does not have to be as prohibitive as it once was: patient-centered financing options are widely available, and they help to make your chosen procedure financially feasible by dividing costs into monthly installments catered to your budget.
What is a natural breast lift?
A "natural" breast lift is not a specific new procedure, but simply means a mastopexy that does not involve implants, relying instead on your surgeon's skill and your natural breast tissue to create perkier breasts that sit higher on your chest. While a breast lift alone cannot increase fullness to the extent that breast lift with implants will, it serves as a more natural alternative for women who want to avoid implants.
Some surgeons also advertise a "natural breast augmentation." This involves taking your own fat (harvested using liposuction from another area of the body) and transferring it to the breasts; however, our practice does not offer fat grafting to the breasts for a few important medical reasons. First, the fat may calcify and appear on your routine mammograms, thereby causing your mammographer some difficulty in thoroughly checking your breasts. Secondly, fat grafting may create unwanted lumps that feel like breast nodules.
Do I need a breast lift, breast augmentation, or a combination of both?
You will most likely be happy with a breast lift alone if you are more or less happy with your breast size when you are wearing a good-fitting, unpadded bra. (A breast lift will somewhat imitate the lift and shaping your bra provides.) You may want breast implants if you hope to see more fullness in the upper half of your breasts or to increase your overall breast size.
If you are on the fence about whether or not to include breast augmentation with your breast lift procedure, the best way to gain clarity is in a consultation with a board certified cosmetic surgeon. They can show you before and after photos of patients who have similar anatomy to yours and discuss how your results with each procedure may compare.
Schedule a consultation with board certified cosmetic surgeon George T. Goffas, MD
If you are looking for breast surgery in the St. Clair Shores and Grosse Pointe area, we invite you to schedule a consultation with Dr. Goffas to learn what a breast lift can do for you. Call us at 586.773.6900 or contact us online today.