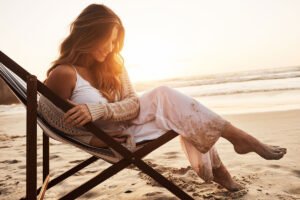 Beyond the damage caused from sleepless nights spent with a newborn, the effects of childbirth on a woman are long lasting, or permanent in many cases. Diet and exercise go a long way in getting a woman back to her pre-baby appearance, but they aren't everything. Some effects of pregnancy and childbirth are irreversible, no matter how hard you try to get back into shape after baby. Fortunately, there are many options available for today's mothers who wish to restore their bodies to their pre-baby shape, or to even improve it while they're at it. Some of the most popular procedures that women choose after childbirth are: 
Breast Lift
St. Clair Shores women seek breast augmentation, like a breast implants, more than any other cosmetic procedure. Getting a breast lift is also popular for St.Clair Shores women, especially those whose bustline has been affected by pregnancy and nursing. Childbirth and breastfeeding can take a major toll on the delicate tissue of women's breasts, and cosmetic procedures are often the best method for reversing these effects. A breast lift defies gravity and raises the bust line above where it currently is, while breast implants provide more fullness and improves the overall shape of the breasts.
Body sculpting
Having a baby changes a woman's body in a variety of ways, most of which aren't desirable. Body sculpting helps women who are stuck losing those last few pounds of baby weight and who need extra assistance in trimming down. Body sculpting is attractive for young mothers because it's minimally invasive with little to no downtime required. Body sculpting gives women the smooth, toned look they're after at a fraction of the cost and recovery time that other traditional treatments require.
Tummy Tuck
Most moms understand what it's like to lose your pre-baby figure knowing that you'll never get it back. The area that suffers the most is the midsection. Excess skin that was required during pregnancy loses its elasticity and the extra flap of skin and fat that come as a result can be impossible to remove naturally. A tummy tuck helps the process along by removing excess fat and skin from the midsection.
Liposuction
Liposuction is a favorite among women, especially new mothers, because it eliminates fat from all areas of the body, not just the tummy. Liposuction removes fat from any area you desire and its customizable quality is what makes it a favorite among women. 
Facial Treatments
The delicate skin of the face often suffer from the hormones and weight change that occur during pregnancy. A facial treatment can help reverse those effects as well as minimizing the signs of aging. Facial treatments can also smooth the skin, minimize pores, and even out skin tone.
Schedule Your Consultation
To take the next steps in getting back your pre-baby body, set up a consultation with board-certified plastic surgeon Dr. George Goffas by contacting our Detroit office.