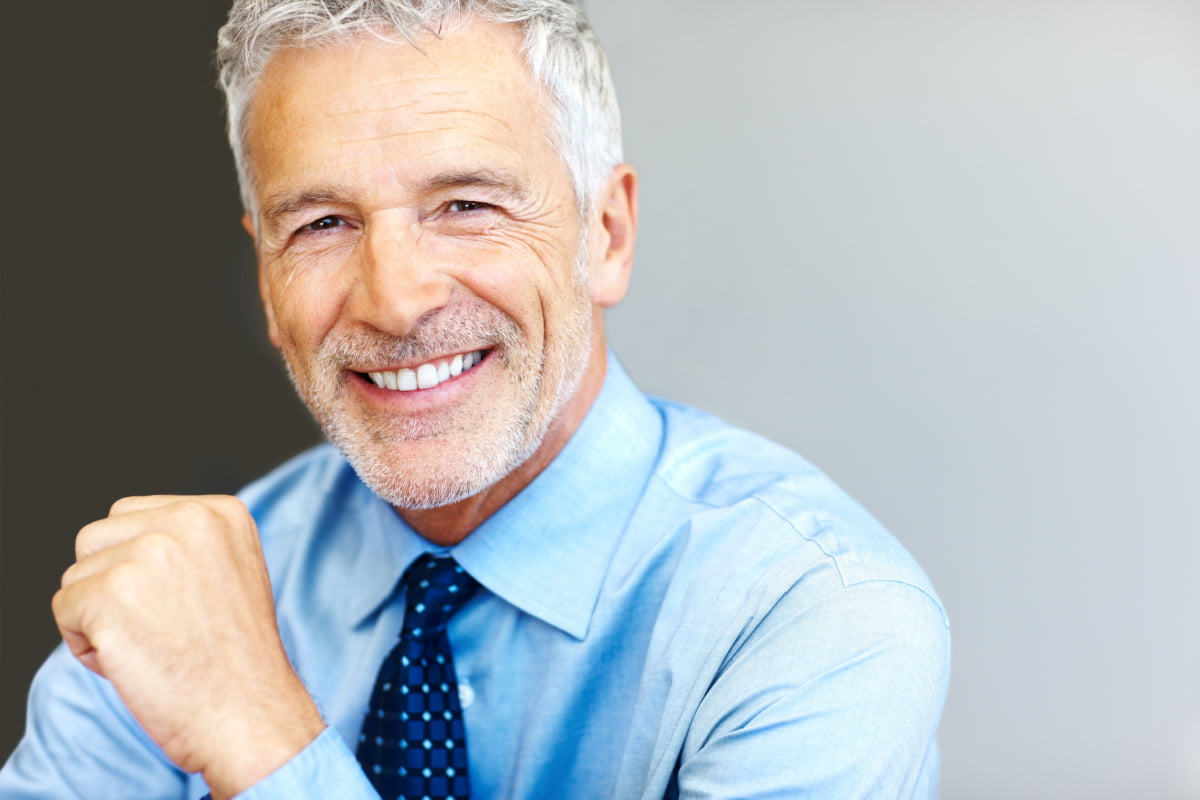 Lines etched in the forehead and between the eyebrows can make us look tired, angry, and simply unfriendly, even when we're living out the best years of our lives. So what causes these upper-face wrinkles in men, and are they preventable?
While the facial aging process is natural, many elements of our lifestyle can be adjusted to help prevent or treat the wrinkles that give the appearance of a "perma-frown." Below, St. Clair Shores board certified cosmetic surgeon Dr. George Goffas explains what you should know about wrinkle prevention and treatment for men.
Why do men get wrinkles in their foreheads with age?
Forehead wrinkles occur for a few reasons. As you age, your skin gradually loses some of its youthful firmness and elasticity as the body depletes the structural protein collagen and the "rebound" protein elastin. This thinning skin is like a sheet of paper: constant "folding" of the tissues when you raise your eyebrows, frown, or furrow your brow eventually leads to the creases becoming etched into the skin.
If you have an especially expressive face and personality, this may happen sooner for you. Plus, men tend to have stronger muscles than women, and it's possible that the stronger your frontalis muscle (which covers the forehead bone), the more pronounced your wrinkles may become.
Are facial wrinkles caused by lifestyle or genetics?
Your natural anatomy can certainly affect where your wrinkles form, but lifestyle factors are thought to have a stronger influence on premature skin aging: smoking, chronic stress, unprotected sun exposure, sedentary lifestyle, lack of nutrients, and dehydration all worsen wrinkles over time.
How can men reduce facial wrinkles?
Since the lifestyle factors that cause wrinkles are largely under your control, prevent wrinkles from worsening by living a healthy lifestyle and protecting your skin:
Are forehead wrinkles ever a sign of an underlying health problem?
No, forehead wrinkles are not necessarily a sign of an underlying health condition. Still, a healthy, common-sense lifestyle is the best way to prevent worsening wrinkles, and these same lifestyle choices can keep you healthy overall. One small study found a correlation between heart disease and wrinkles, and while wrinkles don't necessarily indicate heart disease, this points to the bottom line: a healthy lifestyle is good for you both inside and out.
A healthy lifestyle is the best way to prevent worsening wrinkles, and these same lifestyle choices can keep you healthy overall.
Who's more likely to get wrinkles—men or women?
Men tend to have stronger muscles than women, and men are less likely to follow a daily sunscreen regimen as part of their skincare, so you may have a higher likelihood than women of developing wrinkles. Recently, the popularity of "Brotox," the influence of TikTok in normalizing men's skin care, and rising awareness of the role of sun protection in preventing skin cancer are leading more men to see the wisdom of skin care and anti-wrinkle med spa touch-ups to maintain a natural-looking, youthful appearance.
What can men do to reverse wrinkles without surgery?
There are a number of ways to treat mild-to-moderate wrinkles that don't require incisions, anesthesia, or extended downtime:
Botox® and other Botox-type neurotoxins prevent and smooth upper face wrinkles (forehead, frown lines, and the outer corners of the eyes) with injections to relax muscles and subtly soften expression lines (lasts 3-4 months)
Dermal fillers, also known as wrinkle fillers, treat wrinkles and folds in the mid-to-lower face with a gel-like substance injected beneath the skin (lasts 6-24 months or longer, depending on the product)
Laser treatments address the entire face (and neck if needed) with a controlled injury that prompts the body's healing response to promote collagen production throughout the face; this generally improves fine lines, wrinkles, and discoloration (repeat treatments yield even better results over time)
Chemical peels use a concentrated facial peel formula to exfoliate the outermost layer of skin to promote collagen production for smoother, brighter skin (a series of treatments is recommended for wrinkle reduction)
Retinol and other at-home skincare products with medical-grade ingredients can help to promote cell turnover for prevention or treatment of wrinkles
While all of these treatments can offer some improvement at any age, they won't completely transform your appearance, so it's important to understand that surgery may be a better option if your goal is a major change or if your signs of aging are advanced.
When should men consider facial cosmetic surgery?
If you want to treat deeper wrinkles in men, or wish for long-lasting improvement, facial cosmetic surgery may be necessary. When wrinkles become severe, Botox-type neuromodulators (typically used in the upper face) and dermal fillers (typically used in the lower face) have a limited ability to soften their appearance. These treatments are also temporary. Further, if you have excess, sagging skin, cosmetic surgery may be necessary to remove the excess and restore a firm, smooth foundation.
There are a number of surgical facial rejuvenation procedure options that can be personalized or combined to meet your goals: Facelifts for men typically treat sagging skin in the lower face and jowls, as well as crepe-textured skin in the neck; brow lift addresses forehead wrinkles and a sagging, heavy brow; and eyelid lift tightens skin and removes excess in the upper and/or lower eyelid.
Board certified cosmetic surgeon Dr. George Goffas offers a wide range of treatments and cosmetic surgery procedures for men. All treatments and procedures are offered in one location, at the Cosmetic Surgeons of Michigan, PC office and our private, onsite AAAHC-accredited surgery center. Schedule your personal consultation today by calling 586-773-6900 or contacting us online.