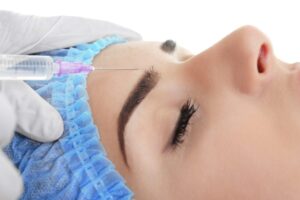 No one wants to see the signs of aging creeping in, but fine lines and gravity are inevitable. For some, a facelift or other cosmetic procedure is the way to go, but not everyone wants to go under the knife, for various reasons. If you are like most people and wish that you could turn back the clock, there are still plenty of good options that are non-surgical and minimally invasive. Unlike surgery, these techniques require little or no downtime and they are much more affordable than a cosmetic procedure. Some of your best options include:
Botox
Botox is one of the most popular injectable wrinkle treatments in St. Clair Shores. It smooths the skin, erases fine lines, and gives the skin a firmer appearance. Many people opt for injections along the forehead, around the outer eye area, around the sides of the nose, and on the chin. Botox doesn't produce permanent results, which some people are more comfortable with. You can try it once and then make adjustments to the number of injections you want the next time you do it. There is little downtime associated with Botox, with only some minor swelling that lasts a few hours at the most. This makes Botox a convenient option that's also affordable enough to do more than once.
Fillers
Men and women of St. Clair Shores are turning to fillers as a way to turn back the hands of time and give the skin the youthful appearance it once had. Fillers make the skin look more healthy and plump, erasing fine lines and creating a smooth surface that will give you a natural looking glow, all while being minimally invasive. Like Botox, this option requires little to no downtime so it's an attractive option for many people. Lip fillers are also common for people who wish to plump up the lips or address fine lines around the mouth.
Retinol products
As you age, your skin care needs change. The products that worked for you in your early adult years are not as effective as they once were. Mature skin requires more removal of dead skin cells and turnover of new ones. This process is what makes the skin look healthy and vibrant. Manual exfoliation with a facial scrub is the least expensive option but it can also scratch the skin's delicate surface. A safer and more effective option is using products that contain retinol that promote the turnover of new skin cells. Retinol products are more expensive than regular face creams but they are a more affordable option than injectables.
Hydration and Sleep
No matter what type of treatment you choose, one of the best things you can do is keep your skin well hydrated and well rested. Plenty of water each day and getting a full night's sleep does wonders to make your skin look its best.
To learn more about our non-invasive skincare treatments, set up a consultation with our physicians by contacting board-certified plastic surgeon Dr. George Goffas' Detroit office.