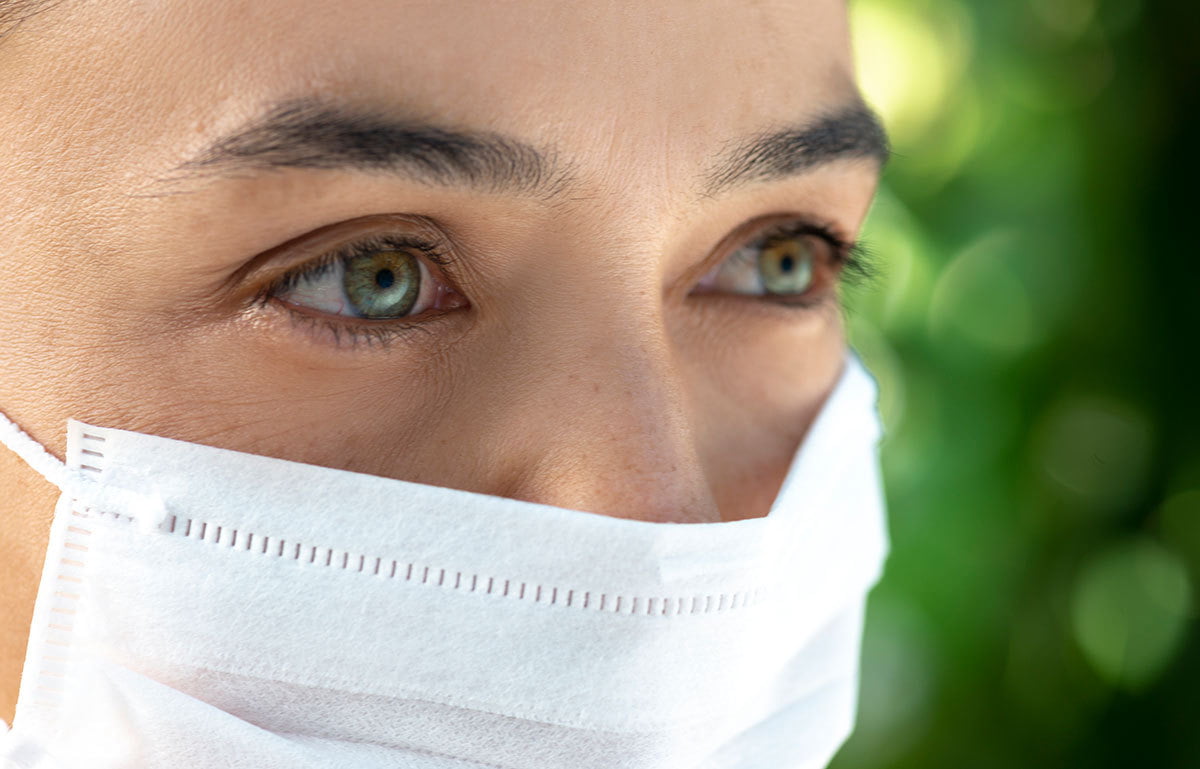 By all accounts, plastic surgery during COVID-19 has been on the rise. The uptick is linked to a number of different factors, including the ability to heal while working from home, video-meeting induced vanity, stress-induced wrinkles, pent-up demand following stay-at-home orders, and even boredom. Regardless of the reasons, many people are thinking about moving forward with a cosmetic procedure—and patients are particularly interested in enhancing parts of their face that show above their mask.
There are a number of nonsurgical and surgical procedures designed to brighten your eyes and refresh your brows—and help you better express your true personality from behind a mask.
Tyra Banks of America's Next Top Model was onto something when she coined the term "smize" back in 2009. The word was originally used to refer to the sultry, dynamic eye expression someone might make for a magazine-ready pose, but now it's how we "smile" every day at friends and strangers in public.
But smizing is harder than it seems, especially if gravity and aging have left you with sagging skin and a permanently grumpy expression. Luckily, there are a number of nonsurgical and surgical procedures designed to brighten your eyes and refresh your brows—and help you better express your true personality from behind a mask.
Eyelid lifts open and brighten the eyes
Blepharoplasty, or the surgical eyelid lift, has long been one of the top cosmetic surgery procedures. In an upper eyelid lift, just enough skin is removed via an incision along the upper eyelid to give the eyes a bright, open look. In a lower eyelid lift, a small incision is made along the lower lash line, sagging skin is tightened, and the fat that causes puffiness is removed or repositioned to create a natural-looking, smooth lower lid. These precise changes can help you appear much more refreshed.
Eyelid lift surgery can be completed in less than 1 hour (2 hours if treating both the upper and lower eyelids). The procedure is done under local anesthesia, so you won't have the grogginess you'd experience after general anesthesia.
Eyelid lifts are equally popular with men as with women. This before-and-after photo demonstrates the natural-looking results Dr. Goffas can achieve for men.
Forehead lifts turn back the clock
The brow lift, also called a forehead lift, restores the upper face and can significantly improve your appearance above the mask. To lift sagging skin on the forehead and brow area, we use a minimal-incision technique that requires less downtime and recovery. If your low-set brow causes you to look angry, or the forehead wrinkles you've always struggled with are set in stark relief when you wear a mask, this is the surgery to turn back the clock and soften your expression.
Botox relaxes muscles to brighten your eye expression
Injected with precision, Botox around the eyes can help you look rested and alert. To help you better express yourself when masked, treat frown lines (the "11s" between the eyebrows) which can make you appear angry even as you project your best smize. Precise injections to relax the crow's feet at the corners of the eyes create the appearance of wider eyes by relaxing the muscles that pull the eyes down, giving up control to the muscles that pull the eyes upward. Botox can even offer you a subtle, arch-raising brow lift when injected between the lid and brow.
Dermal fillers restore youthful contours around the eyes
Hyaluronic acid-based dermal fillers are incredibly versatile tools for contouring the upper facial features, helping to plump certain areas where we naturally lose volume as we age. Here are a few techniques we use to create youthful contours in the upper face:
Add fullness beneath the brow arch to enhance its shape
Smooth under-eye troughs (and reduce the appearance of dark circles)
Plump the upper cheek area
Often combined with well-placed Botox, these enhancements can frame your eyes, providing more youthful definition and restored, expressive features.
Take the plunge—and recover privately
If a cosmetic surgery procedure has been on your mind, these unusual times may finally enable you to recover more privately. For those who've been considering rhinoplasty, neck lift, neck liposuction, or even a facelift, the recovery has never been easier to hide. If you have to head out in public during your recovery, you can cocoon your dressings and compression garment in a mask and scarf, especially during the colder months! And you can hop back into your Zoom meeting routine as soon as your bandages are removed—video feeds won't pick up enough detail to show healing incisions, especially if they were well-placed by your cosmetic surgeon.
Looking for a cosmetic surgeon in Michigan? Dr. Goffas is here to help
There are a number of factors you should consider before choosing a cosmetic surgeon during COVID (including the surgical facility, as we described in a recent blog post). As always, choose a provider who prioritizes patient safety and has a track record of achieving beautiful results for their patients. In your initial consultation with Dr. Goffas, we'll look at before and after photos of our previous patients' results so you can see what Dr. Goffas can do for you. Call (586) 773-6900 or fill out our online form to schedule your consultation.