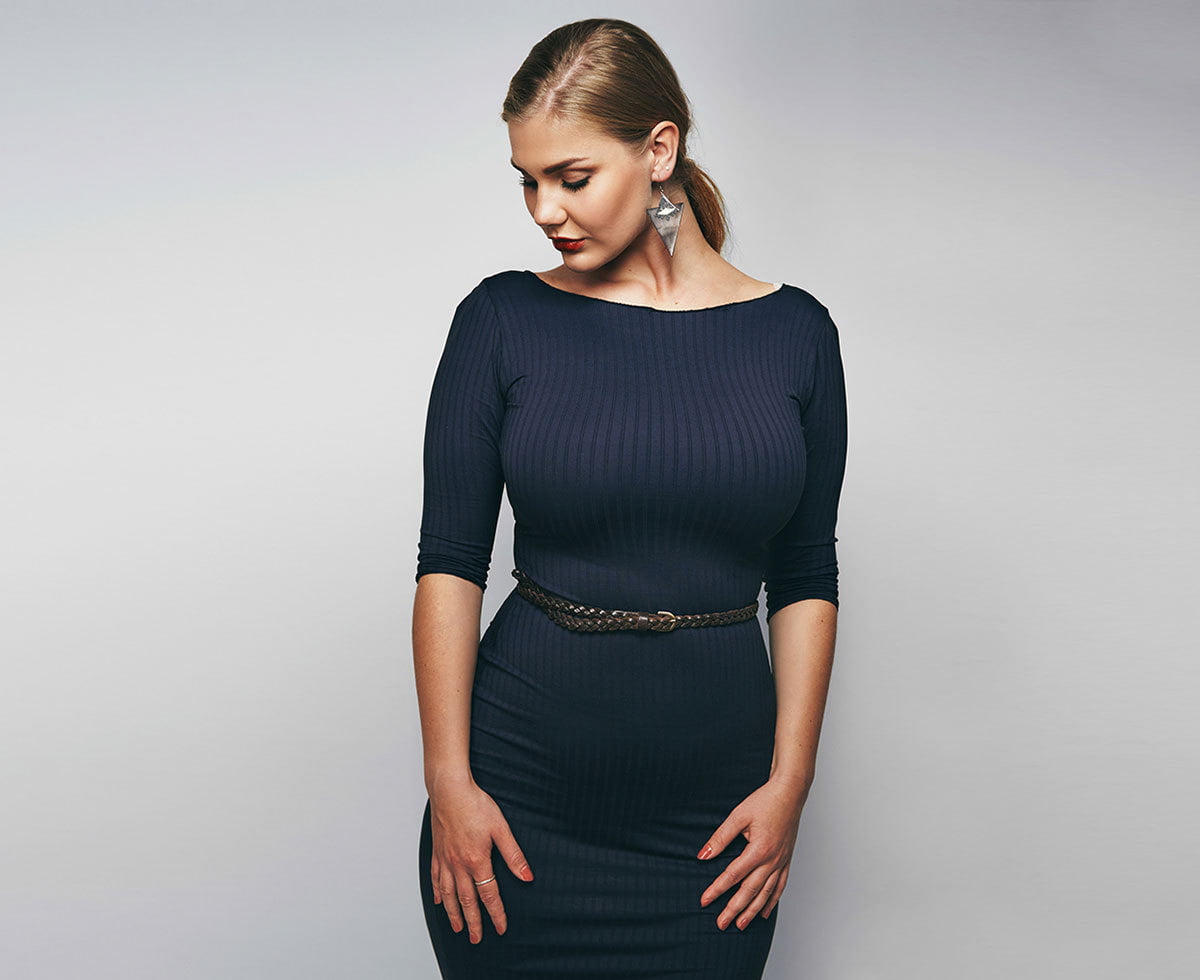 Breast reduction surgery is becoming increasingly popular, with more women opting for smaller breasts that don't impede their range of motion. But breast reduction surgery is a serious procedure and should be thoroughly considered—which is why we've compiled this list of the top 10 things you need to know before having the surgery. This list is meant to help you understand what to expect with your breast reduction surgery and instill the importance of choosing a good cosmetic surgeon and practice.
According to a 2009 study, breast reduction surgery "significantly" reduced depression and anxiety among female patients.
1. You'll immediately feel lighter afterward
Breast reduction surgery can quite literally take a weight off your chest. For women with very large breasts, it is not uncommon for a surgeon to remove a pound or two of breast tissue and skin. Reducing your breast size can also make you feel more emotionally lighter; according to a 2009 study, breast reduction surgery "significantly" reduced depression and anxiety among female patients. Also, since our emotions and physical sensations are intrinsically linked to one another, less physical strain equals less emotional strain.
2. Breast reduction surgery can improve your overall health
Speaking of physical strain, large breasts can put pressure on your spine, shoulders, and neck, causing pain and hunching in these areas. Women who undergo breast reduction surgery often enjoy improved posture, increased self-esteem, fewer skin rashes beneath their breasts, and increased range of motion, allowing them more freedom to exercise.
3. You'll need to wait six weeks before wearing a traditional bra
The underwire in traditional bras can aggravate your incisions, impeding your recovery and causing discomfort. Instead, you'll need to wear a special post-operative compression bra to ensure your chest has proper circulation, which will help you heal faster and prevent complications. The good news is that when you can wear normal bras again, you won't suffer from painful and embarrassing bra grooves on your shoulders, because with smaller, firmer breasts that sit higher on your chest, bras and swimsuits will fit you better. You might even feel a newfound freedom and go braless when you wish!
4. You might want to wait to have surgery until after breastfeeding
There is a chance you won't be able to breastfeed following your breast reduction surgery, so if that is a make-or-break choice for you, you may want to consider holding off on surgery until after you have completed your family.
That said, the likelihood of your mammary glands being affected by surgery depends on the extent of your breast reduction. Techniques that keep the column of the subareolar breast parenchyma intact have a greater likelihood of breastfeeding after reduction (BFAR). In other words, the more your nipples and milk ducts are left attached, the less likely you are to experience BFAR complications.
At Cosmetic Surgeons of Michigan, Dr. Goffas is able to keep the milk ducts and nipple areola complex intact during breast reduction surgery except in the most extensive procedures. If you are concerned about breastfeeding after surgery, Dr. Goffas is happy to discuss these risks—and the best ways to prevent them—with you further.
5. Breast reduction is a significant procedure and following recovery rules is key
Potential patients should be aware of the recovery period that breast reduction surgery requires. Depending on the extent of your reduction, you will need to take one to two weeks off work immediately after your surgery. You also won't be able to exercise or perform any strenuous activity for about a month, with the exception of some light walking each day to promote blood flow. You'll start feeling a little better every day but expect full recovery to take roughly six weeks. The good news is, once you're healed, you're very likely to be among the ~98% of patients who feel the procedure was worth their time and money.
6. A breast reduction and a breast lift are similar procedures on a spectrum
A breast reduction and a breast lift are not the same procedure; however, they are similar procedures on the same spectrum. While a breast reduction's primary purpose is to reduce the volume of your breasts, it is often necessary to also raise your breasts—therefore, it can be like getting two procedures in one.
We are able to tailor your breast reduction surgery to meet your needs, whether that means giving your breasts more of a lift or a size reduction—or both. Every woman's breasts are different—as are their desired outcomes from their procedure—and Dr. Goffas will work with you to ensure your breast expectations are met.
7. Your breast reduction surgeon can also resize your nipple areola complex
Many women who have large breasts also have large nipples and areolas (the skin around the nipple), and breast reduction surgery is the perfect opportunity to resize and reposition the nipple-areola complex. The nipples are often raised higher on your breasts during breast reduction, and your surgeon can also reduce their size if they protrude more than you'd like. Dr. Goffas can discuss nipple and areola repositioning and resizing with you during your breast reduction consultation.
8. Scar care is important for optimal results
Breast reduction surgery requires incisions on the front of the breasts and these will leave visible scars—but how visible will depend on both your surgeon and how you approach scar care.
Breast reduction incisions are usually made in a "lollipop" or "anchor" shape, tracing around the nipple areola complex and then running vertically down to the bottom of your breasts. These scars will be quite noticeable for your first few months, but with proper care, they will fade to fine lines in about a year. Although scarring is unavoidable, there are a few things Dr. Goffas does to mitigate their appearance:
Place them in areas of least resistance. When making incisions, Dr. Goffas considers the need for an entry point to your breast tissue as well as the ability for the tissue to heal optimally (and scar minimally). This means placing them in areas of the breast that experience the least amount of tension.
Use skin closure strips and a compression bra. Dr. Goffas applies skin closure strips to your incisions to allow the skin to close properly. He will advise you to wear a surgical post-operative bra to keep the strips in place and to provide support for your incisions.
Prescribe a silicone-based topical. Dr. Goffas will recommend you apply an OTC silicone-based topical gel to your incisions every day once they've fully closed (this takes about two weeks) to reduce scarring.
9. Breast reduction surgery requires great skill
We can't emphasize how important it is to choose a board-certified cosmetic surgeon with specific experience in breast reduction. As we've mentioned, the procedure is serious and, as such, requires terrific surgical skill and artistry.
One other way to help ensure your surgeon can deliver the results you want is to look at their before and after photos of patients, asking to see women who look similar to you in the before images. When comparing multiple surgeon's work, also ask how long after the procedure a patient's photos were taken—what will turn into a beautiful result can look raw early on and you want to be sure you are comparing "apples to apples." It is also easiest to understand what "final" results are possible if the photos were taken at least six months post-op.
We invite you to take a look at Dr. Goffas' before and after gallery of breast reduction surgeries to get a feel for what your results could look like, while remembering that every patient's results are unique.
10. Facility and anesthesia choices are critical to your safety
Since breast reduction is an intensive surgery, it is very important that your surgeon operates in an accredited surgical facility and uses a highly-trained anesthesia provider. At Cosmetic Surgeons of Michigan, certified registered nurse anesthetists (CRNAs) monitor anesthesia throughout all breast reduction procedures. Dr. Goffas also operates in an AAAHC-accredited surgery center to ensure your safety and privacy.
Read more about why having an accredited surgery center is essential.
Discuss breast reduction surgery with Dr. Goffas today
We hope you found this post to be informative and helpful as you consider breast reduction surgery. As we've mentioned, this procedure is a big decision but can greatly improve your quality of life if you have the right surgeon. If you are in the greater Detroit area, board-certified cosmetic surgeon Dr. Goffas has over 15 years of experience performing breast surgeries and would be happy to discuss your breast reduction options with you. Schedule a consultation with him online or by calling (586) 773-6900.