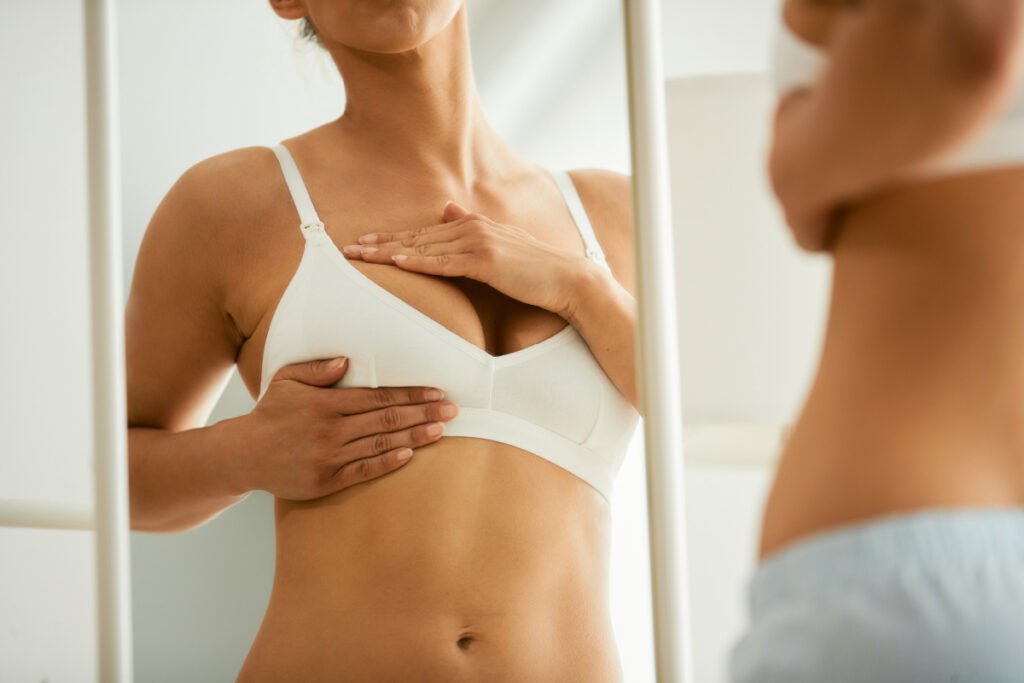 When you look at before and after photos of our St. Clair Shores breast augmentation patients, did you know that you're seeing results that are three, six, or maybe even 12 months old? This is for a good reason: while surgery itself may only take a couple of hours, breast implants take several months to settle into their final shape. The not-so-scientific term patients and cosmetic surgeons use for this process is "drop and fluff."
In this post, our St. Clair Shores cosmetic surgeon, Dr. Goffas, will walk you through the drop and fluff process. Our hope is that you'll finish reading this post a little more ready to embark on your breast augmentation journey, if you decide to have the procedure.
First, what exactly does drop and fluff mean?
During breast augmentation, your implants will be placed beneath your breast tissue and, likely, a portion of your pectoral (chest) muscles. These tissues aren't used to the presence of an implant yet and need time to stretch and relax around the implant. As they do, you'll gradually notice your breast implants relax into a more natural position on your chest (drop) and fill out the lower portion of your breast as your tissues soften (fluff).
This process takes a few months from start to finish, but is worth the wait.
How you'll look and feel in the first days after surgery
As we mentioned, your breasts will look and feel "high and tight" immediately after surgery. Some patients even say their implants appear a little flat, or that the upper portion of their breasts are up near their collarbones. This is all normal, within reason—and you can expect this tight feeling to become slightly more pronounced in the 2 to 3 days after surgery, as post-operative swelling reaches its peak.
It is important to have the right garment for this stage: namely a soft, stretchy, supportive bra. We provide a surgical compression bra for our breast augmentation patients. Wearing this bra helps with soreness, and also provides support for the breasts as they heal—and helps to begin the drop and fluff process.
While these initial days can be a little uncomfortable, be patient and follow your surgeon's recovery instructions. You'll soon start to notice a real difference.
Note: If you experience, feel, or see anything unusual in the days after surgery, or are feeling excessive discomfort, immediately get in touch with your surgeon.
Expect it to take 3 to 6 months for breast augmentation results to fully take shape
It's easy to feel impatient about seeing your final results, but keep in mind that dropping and fluffing happens gradually. Your implants will continue to look better and better after the initial healing period. Most of our patients are pleased with the improvement in their breasts by a month or so after their procedures, and things only get better from there.
Moreover, you won't have to wait until your breast implants have fully dropped and fluffed before you can switch out of the surgical bra—patients are typically able to wear cute lingerie and swimsuits about 4 to 6 weeks after surgery (but do follow your own cosmetic surgeon's instructions, as each person's healing process is unique).
It's easy to feel impatient about seeing your final results, but keep in mind that dropping and fluffing happens gradually.
One thing worth noting: your left and right breasts won't necessarily drop and fluff at exactly the same rate. It is perfectly normal for one side to take the lead for a few weeks, just as it's normal for swelling to go down faster on one side. Again, be patient and don't worry—the breast that's lagging behind will catch up.
For most patients, breast augmentation results are considered "final" for before and after pictures at about 3 months; implants have typically settled into their long-term position by this point. However, subtle improvements in the shape and softness of the breasts may continue for up to one year following surgery.
Can anything speed up the drop and fluff process?
Yes and no. You can help to ensure that your implants drop and fluff optimally by taking good care of yourself after surgery and adhering to your recovery protocol; however, you can't do anything to rush the process.
Every patient's personal "drop and fluff timeline" is unique, and depends on many factors, including:
Which breast implant placement technique your cosmetic surgeon used: submuscular implant placement typically requires a longer drop and fluff period, as both your breast tissue and muscles must adapt to accommodate the implant.
The type of implant you received: textured implants often take longer to settle, due to the friction between the implant shell and surrounding tissue.
The size of your breast implants: larger implants tend to settle a little more quickly, as they weigh more.
Your natural skin elasticity: patients with tighter, more elastic skin might experience a slightly longer drop and fluff timeline than those with thinner or looser skin, as their skin takes longer to stretch.
If, after a couple of months, your breast implants do not seem to have dropped as expected, it's a good idea to call your cosmetic surgeon, who can evaluate your breasts to ensure there are no complications or suggest methods to help coax the drop and fluff process along. Reputable practices, including ours, will schedule regular follow-up appointments during this time period as standard protocol just to make sure everything is going well.
Considering your options for St. Clair Shores breast implants?
If you'd like to learn more about breast augmentation surgery in our area, Detroit cosmetic surgeon Dr. George Goffas is someone we highly recommend talking to. As a board certified cosmetic surgeon, Dr. Goffas has more than 15 years of experience performing cosmetic breast surgery. He will listen to your questions and goals and help you decide the best procedure option to meet your needs. To book your consultation, call us at 586-745-3590 or fill out our contact form online today.