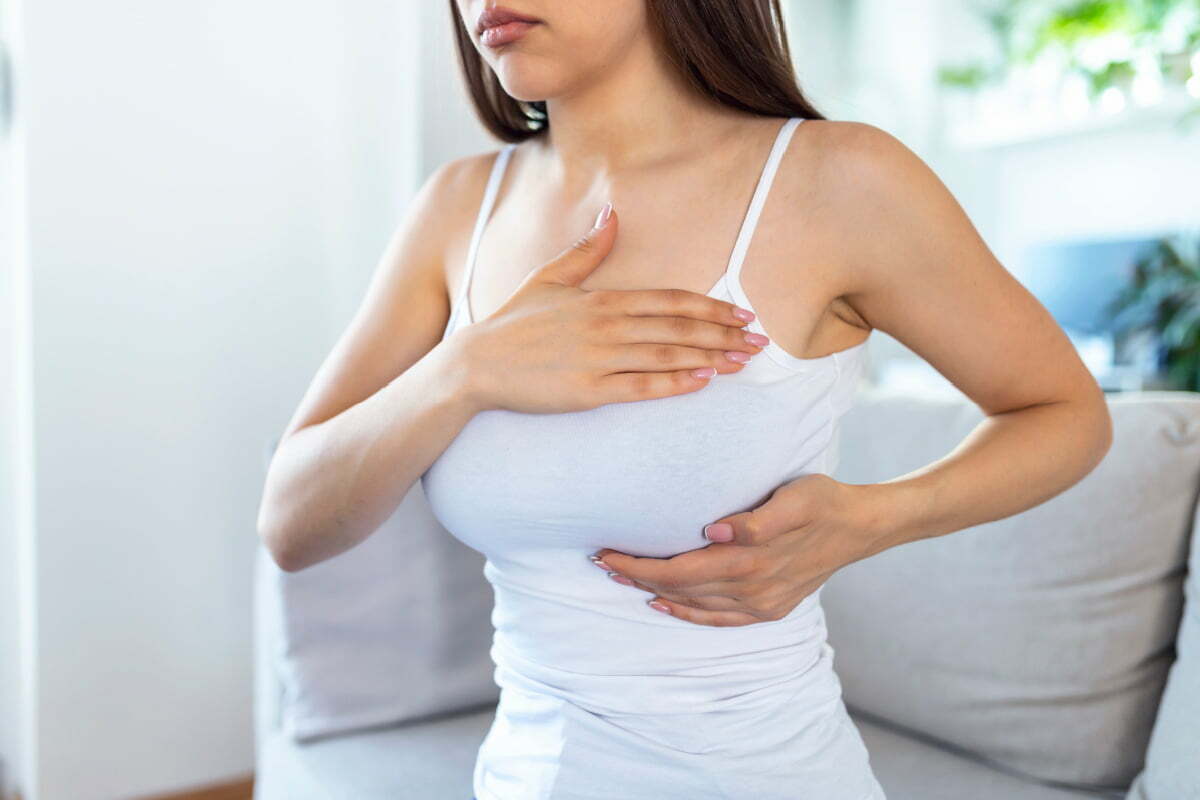 Women seeking breast enhancement trust their cosmetic surgeons to provide a beautiful, lasting result, and it can be hugely disappointing when complications arise after a seemingly successful surgery. One such complication, though rare, is the "bottoming out" of breast implants following breast augmentation surgery. If you have recently undergone breast augmentation and are concerned about your implants bottoming out, this post is for you.
What does it mean for breast implants to bottom out?
The bottoming out of breast implants is a phenomenon where an implant falls below a patient's inframammary fold (the crease below the breast) after breast augmentation surgery. This downward migration of the implant increases the length between the inframammary fold and the nipple, causing the bottom of the breast to enlarge. Though it is possible for both breasts to bottom out at the same time, it is more common for one implant to bottom out, resulting in an asymmetrical appearance of the chest.
Signs your implants may have bottomed out
If you are experiencing one or more of the following symptoms following your breast augmentation, your implants may have bottomed out:
You have lost volume in your upper breast and gained it in your lower breast.
Your implants have moved further down your chest below your inframammary folds. This tension may also cause your inframammary folds to move up your chest wall.
One nipple sits higher than the other. The pressure created in the lower breast tissue will often cause one nipple to sit higher on the breast than the other, and may cause the nipple to angle upwards.
You have pain or discomfort in your lower breasts, as the fallen implant is causing the tissues between your nipple and inframammary fold to stretch. However, pain or discomfort is not always associated with breast implants bottoming out, and may be indicative of other issues. Any prolonged pain or discomfort in the breasts should be discussed with your cosmetic surgeon or primary physician immediately.
Overly-large implants combined with poor quality breast tissue create the perfect conditions for an implant to bottom out.
What causes breast implants to bottom out?
There are a number of factors that can cause breast implants to bottom out, including:
The implant is too large for its pocket. If the implant is too big for its pocket (the space dissected within the breast to house the implant), it can place excessive pressure on the inframammary fold.
The inframammary fold is not repaired adequately. Sometimes a surgeon must lower the inframammary fold to accommodate a larger implant. If the fold is not properly affixed to the chest wall, it can buckle under the weight and pressure from the implant, causing the implant to drop.
The breast tissue is thin/weak. Thin and/or weak breast tissue will not be able to adequately support breast implants, especially larger ones. A variety of factors can cause your breast tissues to become thin and lack elasticity, including genetics, pregnancy, weight fluctuations, aging, smoking, consuming alcohol, previous breast augmentation surgery, and/or poor diet.
Bottoming out vs. a double bubble: What's the difference?
People often confuse bottoming out with a "double bubble" breast deformity. Though these two conditions are both caused by an implant dropping below the inframammary fold, a double bubble often occurs after a surgeon has made a new, lower inframammary fold but neglected to fully dissect the original fold. Thus, after the implant drops, its bottom protrudes between the new and original inframammary folds, causing an unnatural, lumpy appearance to the base of the breast.
Can bottomed-out implants be corrected?
Breast revision surgery is performed to correct implants that have bottomed out by either repositioning or removing the implants. Breast lift surgery, clinically called mastopexy, may also be necessary to correct any loose or hanging skin if you choose to remove your implants.
Dr. Goffas' technique for correcting bottomed-out implants
Over the course of his 15-year career as a board certified cosmetic surgeon, Cosmetic Surgeons of Michigan's Dr. George T. Goffas has adopted a highly-effective technique for correcting bottomed-out implants. While some surgeons simply attempt to raise and re-secure dropped implants by placing internal sutures within the breast, this approach creates the opportunity for the stitches to pull through the tissues and allow the implant to bottom out again.
Instead, Dr. Goffas corrects bottomed-out implants by:
Making an incision at the base of the areola
Removing the implant
Closing the existing implant pocket and capsule with sutures
Creating a new implant pocket on top of the original pocket
Reinserting the implant into its new position
Finally, Dr. Goffas will place retention sutures within the inframammary folds to raise the bottom of the breast and close off the old, stretched-out implant pocket, preventing fluid from collecting within the chest.
Dr. Goffas' technique for correcting bottomed-out implants involves creating a new implant pocket and repairing the inframammary fold.
Depending on your aesthetic goals, Dr. Goffas may choose to place the implant either below the pectoralis muscle (submuscular) or on top of the muscle (subglandular). When possible, he prefers to place the implant below the muscle to provide further support for the implant and to camouflage its appearance.
Can I prevent my breast implants from bottoming out?
Dr. Goffas offers his St. Clair Shores patients an internal bra breast lift as part of breast augmentation surgery to help reduce the risk of their implants bottoming out. During an internal bra breast lift, Dr. Goffas places a surgical mesh within the breasts, creating a strong internal scaffolding that integrates with the body's natural tissues over time. This nuanced technique mimics a bra by adding support for augmented breasts along the inframammary folds.
An internal bra breast lift can add support for augmented breasts and help reduce the risk of implants bottoming out.
The internal bra breast lift can be especially helpful for patients who lack elasticity in their breast tissues but want fuller, perkier, more shapely breasts.
Learn more about breast enhancement and revision surgery in the metro Detroit area
Looking for breast augmentation or revision surgery in the St. Clair Shores and Grosse Pointe area? Schedule a consultation with board certified cosmetic surgeon Dr. George T. Goffas to discuss your options today. Contact us online or give us a call at (586) 773-6900.